Huda Beauty's Newest Palette Takes The Guesswork Out Of Buying Nude Eyeshadow
Huda Beauty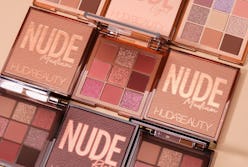 No one can argue against the power of a good nude eyeshadow palette. That said, one "nude" color story doesn't fit all; something you can personally attest to if your go-to neutral palette is dotted with skipped-over pans that didn't quite work with your skin tone. However, this is exactly why there isn't just one color story for Huda Beauty's new NUDE Obsessions Eyeshadow Palette. Instead of dropping a single palette (that would've undoubtedly been snatched up by its 39 million Instagram followers), the cult-famous beauty brand released three unique versions of its new nude color story — titled NUDE Light, NUDE Medium, and NUDE Rich.
You can probably see where this is going (and may already have your credit card in hand). Launched on Huda Beauty's website Oct. 9 and in stores Oct. 15, the new NUDE Obsessions palettes are specifically created to complement all skin tones, focusing on three color stories that encompass various complexion categories. Regardless of which palette you chose, each one offers up nine shades and retails for just $29.
This doesn't mean you just have three different palettes all made from matte nude tones, either; the brand chose colorful shades exclusive to each palette and — in true Huda Beauty fashion — threw in plenty of sparkle, too. The NUDE Rich palette features a warm color story, focusing on rose golds and fiery pinks, with a gorgeous mauve shimmer to boot.
Meanwhile, the NUDE Medium palette is a mix of trendy terracotta eyeshadow shades, with a few pink and coral colors to balance it out. Huda Beauty fans, take note: It's also the palette that founder Huda Kattan uses, according to her Instagram.
On the other hand, NUDE Light trades in terracotta for shades of peachy blush, pulling in a dreamy lavender sparkle as well. As you can tell, each palette offers shades you can dip into every day for when you don't feel like piling on the sparkle — like the NUDE Light's pale beige, peach, and brown.
Already know which version you need for your collection? Head on over to Huda Beauty's website to pick one up, or buy it in stores at any of the brand's retailers. Below, all three new NUDE Obsessions Eyeshadow Palettes.