How The Old Guard Of Beauty Is Winning Over Gen Z, One Instagram Post At A Time
Rich Polk/Getty Images Entertainment/Getty Images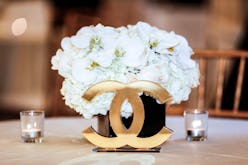 Once upon a time, in a world that existed before your do-anything smart phone (hard to believe, I know), beauty lovers would peruse drugstores and department stores to discover, test, and shop for new products from favorite mass market and luxury beauty brands alike. Some in search of the cool new formula they saw in a magazine or television commercial; some parking at their favorite brand counter to learn about the recent newness because, yes, back in the day, brand loyalty was a very real thing. Today, beauty newness infiltrates our world on a daily basis, with an impromptu Instagram post igniting a frenzy unmatched by even the most genius marketing campaigns of the past. With changing consumer behavior, it's become essential for brands—new and old—to adapt with the socially consumed shopper and capture their attention within an endless scroll of eye-catching newness. Here's a deep dive into the creative ways our favorite luxury beauty brands, like YSL, Chanel, and Guerlain, are keeping up with the overnight megahits emerging in our social world.
Sticking To Their Roots
Beauty is a socially driven industry with over 72 percent of consumers discovering beauty products on social before purchasing, according to the monthly 2018-2019 Cherry Pick Beauty Reports which track purchase intent based on social media engagement. For newer millennial brands like Glossier, Fenty, and Kylie Cosmetics, the social space is at the root of their existence and success. Yet more established legacy brands like Chanel, YSL, and Guerlain have been challenged to rethink their once traditional marketing strategies through the lens of the social consumer, while still remaining true to what has made their brand a coveted household name decade after decade.
"We fully recognize the power of these overnight sensations and interestingly, we rely on our heritage to keep up in the beauty landscape," Gino Luci, Vice President of Marketing at YSL Beauty, explains to TZR. Similarly, Guerlain has continued to embrace their roots of timeless, luxury beauty dating back to 1828. "This rich brand history allows the brand to innovate and to deliver products like L'Essentiel Foundation, whose breakthrough 97% natural formula stems from the brand's commitment to sustainability dating back over 10 years," Natasha Kardos, Vice President of Marketing at Guerlain, says.
Despite the pressures of the over-saturated beauty market, classic powerhouse brands continue to ground themselves in the values that drove their success from the start. "Our strategy is inspired and defined by Mr. Yves Saint Laurent's vision to give women (and men) the freedom to express themselves and to live fulfilled," Luci tells TZR. "Our product strategy embodies these values, most notably in our newest couture launch, LIBRE (which means 'Free' in French), The New Fragrance of Freedom." A plethora of product options invites a generation of more discerning and evolved consumers, with a true brand loyalist becoming nearly obsolete. This makes it increasingly important for all brands to stay true to the formulations and techniques rooted in their name, while also adapting to consumer and societal demand for shade variety, natural or vegan ingredients, or cruelty-free formulas. "While millennials are looking for new brands to explore, Guerlain remains a coveted, timeless jewel that is an everyday staple for customers of all ages looking for quality, luxury, and the best, most efficacious hand-picked raw ingredients from all over the world," Kardos says.
The Influencer Effect
In today's social world, the supply chain continues to be commoditized and social audiences are quickly becoming the new currency. "Classic luxury brands are seeing much competition with new brands that are launched with built in audiences which equal to built-in distribution," Melissa Munnerlyn, Cherry Pick co-founder, explains. This puts considerable power in the hands of celebrities and influencers who can instantly drive sales the second their Instagram story hits the scroll. However, working with celebrities and influential names is hardly a new concept. Luxury beauty brands have partnered with famous faces for ad campaigns since the beginning of time and continue to find unique, strategic ways to do so today. "The brand [YSL] has always had strong ties to music and lately we've been amplifying this platform through events and our brand ambassadors: Adam Levine, Zoe Kravitz, and the newest member to the family Dua Lipa," Luci tells TZR. "As consumers become increasingly diverse, music is a universal form of expression that keeps YSL modern." The modern day social scope challenges classic brands to rethink their approach to celebrity and influencer marketing, looking beyond the once cookie-cutter vision through a lens of inclusivity and individuality. Case in point: Chanel's empowering announcement of transgender model, Teddy Quinlivan, as the newest face of its beauty line.
Not surprising, celebrities with massive social media followings are also leveraging and monetizing their loyal, built-in audience. It's not hard to understand how a mere 150 million captivated Instagram followers translates into a handful — or millions — of sales. While Kylie- or Kardashian-anything tend to be the unicorn outlier, even some non-celebrity affiliated brands like Glossier have achieved mega success with the Instagram-first approach. "Luxury brands have relied heavily on the aspiring luxury lifestyle and sexy women, but Glossier focused on being cool rather than sexy," Quinn Murphy, celebrity makeup artist, explains. "The brand understands the millennial girl and boy and keeps its messaging and focus on being cool, confident, individual, and playful. The ads are not sexualized and the products are focused on a "boy brow" or playful fun eyeliner, rather than luxury and sexual attraction. This has separated them from most other brands."
The Proof Is In The Pudding
With more options for the beauty consumer than ever before, the pressure on brands to deliver efficacious, quality products is higher than ever. "Luxury brands, and any brand for that matter, need to keep the focus on innovation and quality to distinguish themselves from the thousands of other brands out there. It is the old rule, focus on what you believe in, who you are, make a great product and people will want it," explains Murphy to TZR. This focus is something legacy brands have mastered, and continue to build upon, honing in on their veteran status to bring the classic allure of their brands to life in new and meaningful ways that resonate with the younger generation. According to Cherry Picks monthly reports, when comparing the classic and Gen Z consumer sets across social media, the classic, luxury beauty consumer sets are less likely to show demand on social channels because they appeal to older audiences. "If they want to be able to compete with the millennial and Gen Z consumer sets, they need to learn how to connect with this generation across social and be capable of generating consumer demand on social," Munnerlyn explains. One way legacy brands are tapping into the social chatter: experiential activations. Take for example, Chanel's dreamland Instagrammable Los Angeles popup Beauty House which opened to the public in March 2018, to help launch the genius social community, @WeLoveCoco. The Instagram page is purely dedicated to user-generated beauty content, spotlighting the posse of fanatical Chanel lovers including makeup artists, influencers, and everyday beauty fans. This creative approach not only helps to drive social influence, it also helps to spark a two-way conversation and create a place for the brand to interact more closely with their community.
Connect & Listen
In our socially driven universe, customers are more vocal and their feedback — good and bad — is immediate. It is imperative that brands listen, and do so carefully. Modern brands like Glossier rely heavily on their social community as a part of the product development process, creating an interaction with consumers that makes them feel heard. "If your customer doesn't care about a lip stain that lasts for 72 hours, then leave that to others and create a lipstick that feels amazing, in great colors with the most beautiful finishes around," Murphy shares with TZR. "Brands must find needs and missing holes in the market and do the best job to fill them." Monthly 2019 Cherry Pick reports consistently show millennial beauty brands like Colour Pop, Fenty, and Anastasia Beverly Hills ranking in the top 10 color cosmetic brands based on product intent claiming between five to 15 percent of the social market chatter. This drastically outranks legacy brands like Chanel, Dior, and Lancome which fall outside the top 30 with less than one percent product intent. "Newer brands are much more successful in generating consumer demand and intent to purchase across social," explains Munnerlyn.
There is however, another bucket of established beauty brands who have successfully married the appeal of beloved classics with modern day social impact. Brands like Anastasia Beverly Hills, Benefit Cosmetics, and Too Faced Cosmetics continue to dominate purchase intent across social. "It's much harder to disrupt categories in which these types of brands own. Take eyebrows for example. Anastasia and Benefit together own 61 percent of all consumer demand in eyebrow for 2019 because they own cult products in this space," Munnerlyn explains to TZR. These middle-market brands were quick to adapt and evolve with the social media revolution and capitalize on building a social audience and social brand voice. As some of the first to explore the social realm, brands like Benefit and Too Faced set precedent for the future of creative and eye-catching content that captivated the social universe and resulted in an army of insanely loyal followers.