How Karl Lagerfeld's Profound Influence On Fashion Will Make Waves For Decades To Come
Francois Mori/AP/Shutterstock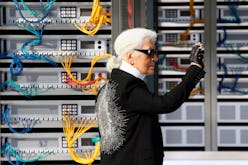 This morning the world woke to news alerts of legendary designer Karl Lagerfeld's death. His staggering 36 years at the helm of Chanel and 54-year partnership with Fendi among myriad other creative and professional accolades have triggered a colossal outpouring of condolences for the massively important and unparalleled designer. Journalist Tim Blanks was among the first to react on Instagram, captioning a photo of the two of them simply, "We grew old together." In mere hours, countless heartfelt anecdotes recalling interactions and relationships with the prolific designer emerged. Everyone from established photographers to models to writers to fellow designers had something profound to profess about Karl Lagerfeld's impact on fashion. Marc Jacobs uploaded a photograph of himself next to the Figaro-style white ponytail and sleek black sunglasses lamenting, "Waking up to a world without Karl. So sad. And strange. He was a great inspiration to me, and, undeniably a unique and extraordinary talent." The industry's mourning is bound to carry on well into Milan Fashion Week, where Fendi will show and Paris Fashion Week, where Chanel will show on the morning of Mar. 5, but it may take some time in the coming months to unpack and reflect on just how era-altering his influence on fashion has been.
Born in Hamburg and educated in drawing and history, Lagerfeld began his career in 1955 serving as an assistant to Pierre Balmain. Almost a decade later he began working with Chloe and in 1965 he launched into his longterm collaboration with Fendi. Fast forward to the early '80s when Chanel's then-chairman Alain Wertheimer tapped Lagerfeld to design for the—what many regarded as—dead house. Today in a press release Wetheimer recalled, "Today, not only have I lost a friend, but we have all lost an extraordinarily creative mind to whom I gave carte blanche in the early 1980s to reinvent the brand." And reinvent the brand he did.
Even before his time at the house of Chanel, Lagerfeld was a champion for the modern woman who defied antiquated tradition. In 1974, The New York Times published an article in awe of his comfortable "pale suede pumps with one‐inch heels, semiboots with laces at the side, [and] sandals with the same minimal elevation," that he designed for Chloe. A year later when his designs were examined even closer for modernity, he remarked "The body was something forbidden. Clothes concealed it, even when they were tight and pretended to show it. Now, with people more relaxed about their bodies, we can perhaps have freedom again."
Lagerfeld's designs and point of view always transcended generations while somehow simultaneously defining them. His keen ability of creatively referencing the past while marrying it with what he envisioned as the future was a skill that few others have mastered, perhaps none quite as exquisitely as Lagerfeld.
When he started at Chanel the buzz around his first couture collection was so widespread, two additional shows had to be scheduled in order to accommodate those interested in seeing it. The clothes, of course, did not disappoint and accurately referenced Coco Chanel's brand DNA while translating the garments into a contemporary context. Something that he managed to achieve up until the very end of his life.
It's arguably impossible to encompass and quantify the entirety of Lagerfeld's effect on the industry. His work, which spanned across two separate centuries, "formed the prototype of the modern luxury fashion industry," chief fashion critic for The New York Times Vanessa Friedman said in an obituary for the designer published today. Modern luxury as we know it today is multifaceted—Karl created and pioneered much of that. He was a photographer, a director, a filmmaker — a self-proclaimed "optical voyeur." His runway shows were a coveted ticket during fashion week with imaginative set designs ranging from themes like a chic barnyard (nodding to his childhood years on a farm) all the way to a supermarket setup where models trounced down aisles of candy-hued cans of food. Several of his recent shows (cruise and pre-fall, primarily) physically transported guests to ethereal destinations outside of Paris and Milan, like Fendi's history-making show on The Great Wall of China in 2007.
Lagerfeld also identified the craving for celebrity early on, dressing and serving as inspiration for countless influential figures for occasions across the spectrum. Keira Knightley was married in a tulle Chanel cocktail dress, Princess Diana was a tweed suit repeat wearer, and style icon Alexa Chung even joked she wants to be buried in her favorite frock from the Parisian fashion house. And who can forget Sex and the City's snarky Anthony Merentino coining "Chanello!" on the HBO series? If it weren't for Karl Lagerfeld, it's more than fair to say Chanel's cultural significance would not be as such.
His 2004 collaboration with H&M signaled to other designers including Alber Elbaz and Rei Kawakubo that a new era was being ushered in; one which affords luxury fashion an opportunity to accessibly translate to a high street market. Lagerfeld also saw the rise in social media as a vital moment to align himself and his brands with. Aside from simply providing über-shareable moments that fit nicely into an Instagram grid, he also imbued his processes with forward-thinking strategies that kept his brands from feeling overly stuffy or elitist (including the successful #CHANELTower social initiative that offered fans a behind-the-scenes, immersive look at the house's live runway show a couple of years ago).
When Lagerfeld was awarded the Grand Vermeil (the city's highest honor) in 2017 after the finale of his couture show in the Grand Palais, Mayor Anne Hidalgo turned to the creative director and said, "Paris loves you. You are Paris." As the industry begins the post-Lagerfeld era, it feels appropriate to adopt the phrase as such; Fashion loves you. You are fashion. Rest in peace, Kaiser.