10 Of Karl Lagerfeld's Most Iconic Chanel Designs Of All Time
Pascal Le Segretain/Getty Images Entertainment/Getty Images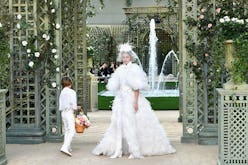 Karl Lagerfeld died today in Paris at the age of 85, and the world lost one of its most prolific fashion greats. The designer, who served as Creative Director for Chanel and Fendi, was an icon in every sense of the word — and so were his designs, especially when it came to Lagerfeld's creations for Chanel. It wasn't just his clothing that was brilliant, though — his shows were often more lavish than the clothes themselves, and always left the world wondering what he would possibly dream up next. And though he will no longer be designing for one of the world's most esteemed fashion houses, the products of his wild imagination will thankfully live on forever.
It's nearly impossible to truly appreciate all that Lagerfeld created for Chanel — his career spanned more than 30 years at the company, and in more recent times he designed up to six collections a year for the brand. But of course, there are memorable moments that stand out. Who could forget the glittering swimsuit and matching swim cap that made jaws drop at Chanel's Spring/Summer 2019 Haute Couture show? And it's impossible to forget the Fall/Winter 2014 Ready-To-Wear show at the supermarket, which featured Cara Delevingne clad in a ripped pink outfit underneath a classic tweed coat. Obviously there's an endless amount worth remembering, but ahead are just 10 of the most iconic designs — and shows — from the designer of all time.
Chanel Spring/Summer 2019 Haute Couture
Lagerfeld created an Italian villa in the Grand Palais in Paris for this collection, and this glittering swimsuit look was undeniably one of the best.
Chanel Fall/Winter 2018 Ready-To-Wear
Yes, Lagerfeld may have created an autumnal forest in the Grand Palais for this collection, but the clothes were just as unbelievable as the setting. Though all of the designs were stunning in their own right, this look especially feels quintessentially Chanel.
Chanel Fall/Winter 2017 Ready-To-Wear
Each look in this collection was just as iconic as the next — but perhaps even more iconic than the outfits was the fact that Lagerfeld created a spaceship in the Grand Palais to serve as the backdrop of the show.
Chanel Spring/Summer 2016 Haute Couture
According to Vogue, wood chips were the focus of this collection: "Wood chips were used as beading, paillettes, and 3-D frills among techniques involving recycled paper and organic woven yarn." That makes every look in this show iconic — but perhaps one of the best moments was Gigi Hadid walking down the runway in a chic dress over pants complete with a stunning cape.
Chanel Fall/Winter 2015 Haute Couture
Kristen Stewart and Julianne Moore were just a few of the celebrities who sat down at the casino Lagerfeld created as the backdrop of this show. But even those appearances were overshadowed by the clothes, like this over-the-top floral coat-and-gown piece that went down the runway.
Chanel Fall/Winter 2014 Haute Couture
Lagerfeld never shies away from a dramatic white gown and cape — but this look was one of his most beautiful designs.
Chanel Fall/Winter 2014 Ready-To-Wear
When Lagerfeld creates a Chanel-themed supermarket and sends Cara Delevingne down the runway in head-to-toe pink, you get a moment that no one could ever forget.
Chanel Spring/Summer 2013 Haute Couture
There are few who do a dramatic dress quite like Lagerfeld could. For this collection, the designer infused romance into each look, like this dark, floral gown, and sent them down a runway-turned-forest in the Grand Palais.
Chanel Resort 2013
Lagerfeld presented this Cruise 2013 collection on the grounds of Versailles, which is perhaps one of the most iconic settings of all time — even by Lagerfeld's standards. And the looks were nothing but fun: Tweed dresses mixed with denim suits for an unexpected and unforgettable show.
Chanel Fall/Winter 2011 Haute Couture
This couture presentation took place in the Place Vendôme, and the starry-like setting served as the perfect backdrop for the clothing. The designs in this collection felt like some of the designer's most classic tributes to Chanel's core: It will filled with his own unique take on the chic tweed suits the brand is so known for.