Why The Gucci Logo Belt Isn't Going Anywhere In 2019
Timur Emek / Getty Images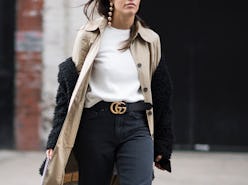 The Climb is our feature series that highlights a top-selling item from brands both established and buzzworthy. In these monthly features, you'll hear from designers, retailers, trend forecasters, and more. Read ahead to learn about the fascinating history of how one extra-special piece exceeded expectations and became a forever product. This month's focus is on the Gucci logo belt — find the story behind the iconic accessory below.
Save for Chanel's 2.55 quilted handbag or an Hermès Birkin, there are few accessories equally as recognizable as Gucci's logo belt. Two sleek intertwined gold Gs situated on a strip of soft Italian leather. It's a trend piece and classic staple all at once, which helps explain its enduring popularity. If you have any interest in the iconic fashion house then you probably already know Creative Director Alessandro Michele is in large part to thank for the belt's current success. However, it goes back quite a bit further than him, according to Ana Correa, an Associate Editor of Accessories and Footwear for trend forecasting company WGSN. She explains that the consumer's familiarity with the logo and its associations with luxury is a causative factor.
"In the early 1900s, designers were not yet using logos with their brands, that didn't start until around the 1930s," Correa tells TZR. "When [Guccio] Gucci founded Gucci he didn't even have a logo." It wasn't until his son Aldo joined the company in 1933 and crafted a logo from his father's initials that the company became recognized for its signature double Gs. Around the same time, other French fashion houses like Chanel and Christian Dior were developing their logos but as Correa shares, the start of "logomania" wouldn't come until much later. "In the '50s and '60s, everything was very pared-down and elegant. The '70s and '80s signaled a rise in statement stylings in terms of the logo, especially with accessories," she continues. The 2000s catapulted logo-bedecked clothing and accessories into a never-before-seen spotlight that has an effect arguably still being felt almost two decades later.
The Gucci Logo Begins To Take Center Stage, 1973
When Alessandro Michele took the reins at Gucci in 2015, it marked a watershed moment for the brand. Notes on every seat of the freshman runway show quoted Italian philosopher Giorgio Agamben, "Those who are truly contemporary are those who neither perfectly coincide with their time nor adapt to its demands." The sentiment eloquently describes the nostalgic-meets-novel approach Michele applies to his direction at Gucci, and thankfully the double G belt was folded into that vision. Models traipsed down the runway with belts fastened around piped pajama pants with matching jackets, leather pleated midi skirts, and other mix-and-match separates that when accessorized with the belt looked divinely wearable, and though not new, felt refreshed.
A Look From The Gucci Fall 2015 Runway
Following that first collection, the belts were a commercial success. Vestiaire Collective Co-founder Fanny Moizant shares that after Michele joined the brand, the shopping website experienced a 96 percent increase in sales. "We saw a further year over year increase in 2017 when sales rose by an additional 124 percent," Moizant notes. The average selling price for the covetable accessory on Vestiaire Collective is around $230, and around 20 percent of those belts are vintage styles, which according to Moizant, "reflects the increasing interest in original versions of contemporary designs."
Luxury retailer MatchesFashion.com also noticed the Michele effect. "The Gucci belts continue to be a cult item," Buyer Patti Green tells TZR. "It is definitely amongst one of our most popular accessories; the style frequently tops our weekly sellers in its category." The site has an average sell-through of around 200 Gucci logo belts a month, and the most popular color is — you guessed it — black.
Another piece in the puzzle of dissecting the belt's success is the price point. In the context of luxury collections, a belt is on the more affordable side of the spectrum. "Gucci belts are a great introduction piece to luxury markets," Correa says. "It's great for an older market who has money, but not just for them — we've seen that it's a key item for a younger audience as well." MatchesFashion.com has also experienced this plurality. "There isn't a typical demographic buying into this style, it tends to be transcendent of a customer's age," Green shares.
The Gucci logo belt continues to evolve with different materials, colors, and sizes as "an opulent, more is more aesthetic continues," Correa says. There are pearls, studs, multicolor crystals, marbled Plexiglas —embellishments that vary as widely as Michele's inspirations. But for the simple at heart, you'll always be able to find the classic black belt with its mainstay double G's and enduring timelessness — and that's a statement worth making.
Ahead, Shop The Iconic Gucci Belt