The Most Surprising Jewelry Trend Of The Season Just Went Down The Gucci Runway
Tullio M. Puglia/Getty Images Entertainment/Getty Images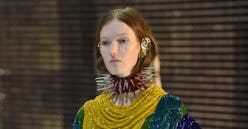 Gucci is roaring into 2019 — literally. Before Gucci's Fall 2019 collection walked down the runway, guests were kept in darkness as audio of a snarling animal played. Then, with a sudden beat, creative director Alessandro Michele's 120,000 LED-lit stage flashed, the carol "Gabriel's Message" began to play, and the Feb. 20 show was underway.
It was a Gucci fan's fantasy: A moving, Mad Max-infused Renaissance painting, complete with unisex power suiting. PAPER magazine reported that Gucci's show invites were plaster Greek masks. The house itself noted on Instagram that the stage's mirrored runway was over 100 meters long (close to 109 yards, for the non-metric system users). To say it was over the top would be an understatement.
And Michele's fans will recognize the designer's love for art in the show, too. "I like popular culture and this is the reason why I like the Renaissance because it is super pop. Pop means we all understand it and admire it," reads a quote by Michele on Gucci's website regarding the Cruise 2018 collection. Some references were straightforward — a radiant halo of spikes crowning a model, Botticellian tears subtly glittering on the cheeks of others.
But even art history majors could've missed one artistic reference the designer made during the show. Lucky for fans, Gucci gave credit where it was due, sharing on IG that the show's metal ear coverings were influenced by Eduardo Costa's "Fashion Fiction #1".
Gucci wrote in the post that the image was published by Vogue in 1968, but it takes a little digging to learn more about the piece. And you should, because beyond the show's bags and blouses, the drama of the metal ear armor may have staying power.
Not much is readily available on the Fashion Fiction series by way of Google (give the internet fashion lovers a few hours). Fortunately, a passage of multimedia artist and professor Eduardo Kac's "Telepresence & Bio Art: Networking Humans, Rabbits, & Robots" does come up when you search the web.
It details that Costa's Fashion Fiction series involved creating and photographing one-of-a-kind accessories, presenting them to the viewer as a major fashion brand would a mass-produced products — and maybe even tricking anyone who saw the photo that it was advertising a buyable object made by a major fashion house (such as oh, you know, Gucci).
So when will Gucci's slightly larger-scale production of golden ear cuffs be available? Excited shoppers will just have to keep an eye on the house's website. Until the avant-garde earwear (is that a word now?) drops in stores, continue scrolling to shop other artistic pieces from Gucci's jewelry line.