Ballerina Makeup Got A Major Makeover At Dior
Pascal Le Segretain/Getty Images Entertainment/Getty Images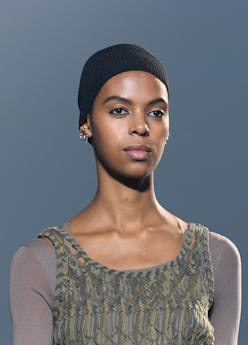 No one kicks off of Paris Fashion Week better than Dior: The storied fashion house took show-goers outside of the city center to Hippodrome de Longchamp for a stunning 16 minute-show. And this season, the beauty look at Dior's Spring/Summer 2019 show on Sept. 24 didn't disappoint.
In a Sunday evening Instagram, Dior teased a conceptual dance clip paired with a mysterious caption: "The story comes from inside the body - Sharon Eyal." After a bit of Googling (Eyal is a ballet dancer and choreographer), one might guess that Dior head designer, Maria Grazia Chiuri, was inspired the world of ballet — and one would be correct. Dancers opened the show and would continue to flutter around the models, who floated down the runway in slippers and tulle. Both the show's makeup, done by Peter Philips for Dior Beauty, and hair, led by Guido Palau for Redken, were just as graceful and elegant.
"Every model has different headbands on, very thick, all inspired by movement," Palau tells The Zoe Report. "We're wrapping the hair around the head, creating a fold in the back in a design. It's very beautiful within itself without any lumps or bumps or knots. It's much more of a simple silhouette when you see it. Even though it's subtle, the hair would look very different if we pulled it back into a chignon — this look feels more experimental but still feminine."
To create the toned-down silhouette, Palau created a "wig-wrap" molded to each model's head. The look is reminiscent of a "doobie," as worn by Rihanna at the 2013 AMAs — and regular women to protect their blow-outs overnight. "It is part of a look, but it's part of a whole feeling to the fashion. This wrapped hair isn't really a feature. It's more of a way of getting rid of the hair and making it feel more dance-like, more in a contemporary kind of way," Palau continues.
Backstage, Palau credits Redken Forceful 23 as an essential product to achieve the look he dubs as a "support act, but it really makes the head shape beautiful and emphasizes the elegance of dance." Bobby pins and a boar bristle brush also come in handy to nail this look.
For glam, Philips debuted a bolder, punk-inspired moment for the brand, which he describes as "very natural, glowy skin with a bit of 'leftover' eye makeup in the kohl line extended just outside of the waterline." He used an old trick — lighting the tip on fire — to warm up the liner and disinfect at the same time.
In fact, the anchor of the look was the eyes — particularly an art-inspired design right on the temple for only 10 models — inspired by Eyal herself. "She came in and at first, I thought she had a tattoo on her face which was very intriguing, but it was actually makeup," he explains, showing reporters a video of Eyal at the show's video test. "How she approaches using makeup is totally unique and very unconventional. As a makeup artist, it's very strange to see someone else applying makeup as a choreographer. She doesn't think about how her makeup is going to look [in the end]. She takes a crayon — or a pen, whatever she is using — and makes gestures. It's very poetic. She uses products like an extension of herself, almost like the steps you'd see on a dance floor."
A similar look and technique was used on the models, along with Philips' own pro tips: He left the rest of the face minimal, relying on Diorskin Forever & Ever Wear primer, a bit of Capture Youth Glow Booster Age Delay Illuminating Serum for good grip, and the Dior Backstage Face & Body Foundation. That's right: no blush, bronzer, or contour. "It was important to keep the skin simple, because the collection relies heavily on skin tone fabric," he notes. "Maria [Grazia] made bodysuits — like dancer wear — in many different skin tones to match the model that's wearing it."
And with slightly filled-in brows, curled lashes, liner, and lips prepped the brand's new sugar scrub and maximizer, the models were ready to dance their way to the runway.