How Celeb Hairstylist Oribe Canales' Namesake Brand Reached Cult Status
@oribe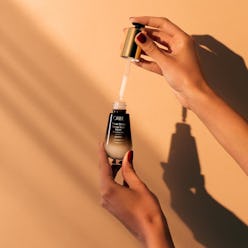 Ten years: That's how long it's been since legendary hairstylist Oribe Canales first introduced his namesake luxury haircare brand to the world. And despite the saturated market and oh-so-heavy competition, Oribe has managed to skyrocket to cult status, thanks in large part to beloved products like Dry and Volumista Mist. "The products are superb," says Canales, who recently sat down with The Zoe Report. "I'm such a snob with product, so to have the opportunity to develop my own was an experience. We tested absolutely everything," he tells us, noting the two biggest boxes he wanted to check off: "It had to perform and it had to smell good."
With its sleek, upscale packaging and performance-driven formulas, Oribe (the brand) has delivered on its promise tenfold and, since its launch in 2008, has quickly risen in the ranks as a staple in the professional world. It's safe to say a good deal of the brand's clout in the professional world is a direct result of its co-founder's extensive star-studded resume — and his charismatic personality ("I'm dramatic," says Canales). With more than 30 years of styling under his belt and a laundry list of clients that reads like a who's who of Hollywood, if anyone has a right to be a "snob" about hair care, it's him.
The Cuban-born guru fell into hairstyling in his 20s, after moving from his family home in North Carolina to New York City, where he first took a job as a receptionist at a salon. It wasn't long before he found himself working for big-name stylists and editorials like Vogue, GQ, and Elle. "I was terrible at the beginning," says Canales. "I worked hard to become great."
That said, not all the bumps in the road or slip-ups were bad. "In my early work, if there was a hair that was off or a look that came out slightly different than expected, it usually turned out even better than planned," says Canales. "Often, a hint of imperfection makes things much more interesting."
Either way, it's worked for him. Fast-forward a few decades and add some big name clients like Kim Kardashian West, Meghan Markle, Linda Evangelista, and Jennifer Lopez as well as high-profile designers like Chanel, Alaia, and Versace into the mix, and you've got yourself a little thing called clout. It was, in fact, this star-studded, runway-dwelling life (and his working relationship with the queen of glam herself, J.Lo) that inspired Canales to launch Oribe in the first place. He felt he wanted a product line that emulated the aspirational lifestyle and look he loved so much. "I've always loved classic glamour and wanted to create something you wanted to touch and pick up," he says. "Everything was matte at the time and I wanted shiny, glamorous, and bejeweled."
Alongside co-founders Kaner and Tevya Finger, Canales launched Oribe (pronounced or-bay) to allow hairdressers to go as big and bold as they wanted with their craft. Thickening sprays, plumping mousses, shine-enhancing serums (which make air-drying hair a breeze), and more all deliver that classic Hollywood glam and aim to "change the way professional stylists feel about and do hair," says Canales.
The brand also made a name for itself in the natural hair space, thanks to its hydrating, silicone-free OribeSignature Complex that nurtures curly and textured hair types. Products like the Cleansing Créme and Curl By Definition Créme are touted by pros for pumping curls with moisture without weighing them down.
And while his career as a hairstylist was long established at this point, Canales' role as a hair care entrepreneur was rife with a whole new set of lessons. "I didn't realize what it took to build a brand," says Canales. "The hardest thing is finding the perfect group of people to grow the brand with, especially at the beginning and just allowing and trusting everyone to do what they do best."
The journey into haircare has not been without its lessons. The biggest turn of events came just last year when the brand was acquired by Kao USA Inc., (with the brand's co-founder Daniel Kaner staying on as president of the brand.) "Oribe 'the man' had one non-negotiable when we started this project — the product had to perform at the very highest level; at the heart of the brand's success remains that performance standard," said Kaner in a 2017 interview with Behindthechair.com.
The hair veteran has also figured out a thing or two about himself. "I'm learning to be a little more diplomatic," says Canales. "I do have a strong point of view. In being around people like Daniel [Kaner], I'm learning to better express myself to people. I know I can sometimes come off too strong, and I'm doing that differently."
And as he celebrates the company's 10th birthday, Canales looks forward to what's to come — both the challenges and the triumphs. "There's so much to do still," says Canales. "So many different products and accessories to explore. We're just a baby in terms of a company — there are so many directions that I hope to go."