How Akira Beauty Offers Deep Discounts On La Mer, Oribe, & Other Super Luxe Brands
Akira Beauty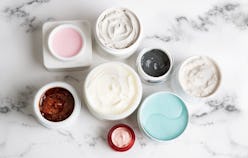 Want to avoid paying full price for your favorite beauty products? It's easier than whatever sneaky technique you're currently using — whether that's signing up for a brand's mailing list with multiple email addresses (usually a guaranteed 10 percent off), holding out until a holiday weekend for a sale, or stocking up on a years' worth of makeup every Black Friday. Akira Beauty, a just-launched digital luxury retailer, offers deep discounts on fancy products — like, 10 to 40 percent off kind of deep — all day, every day. No discount codes or nefarious methods necessary.
"We observed customers wait for sale timing or seasonal promotions in order to stock up on their favorite beauty products at more affordable pricing," Yin Yin Liow, Akira Beauty's Chief Marketing Officer, tells The Zoe Report. "For international products, people travel abroad or ask friends who travel to purchase international beauty products with more selection and better pricing." Everybody does it, and this increasingly common consumer behavior prompted a major brainstorming session among Liow and the rest of the Akira team. They wanted to find a way to make luxury, prestige beauty products — like infamously-expensive La Mer skincare and Laura Mercier makeup — more affordable and accessible to everyone, always. So they did.
"Our solution is staying simplistic: By reducing costs from advertising, samples, and gift wrapping, we offer prestige skincare, hair care, cosmetics, and beyond at an average 10 to 40 percent less than retail prices," Liow says, adding that the discounts aren't temporary or fluctuating — they're available "24/7, all the time" via the Akira Beauty site. (For example, YSL's cult-favorite Touch Eclat is just $29 on Akira, as opposed to $38 everywhere else.)
Akira takes a bit of a different approach than brands like Everlane and Warby Parker, both of which offer luxury-level goods at affordable prices by going direct-to-consumer and cutting out the middleman. In contrast, Akira is the ultimate middleman: "We keep our margins slim in order to offer affordable pricing," Liow says — basically, the company doesn't make its customers foot the bill for samples and gifting, marketing budgets, or over-the-top packaging. "We also leverage our strong international buying teams that constantly search for high performance products with competitive cost from different markets," she tells TZR.
Even better: The company only sources from original manufacturers and authorized distributors, like high end department stores, so you're guaranteed to get quality-controlled, in-season beauty products.
Ahead, the best skincare, makeup, hair care, and more — with the deepest discounts — to shop on Akira Beauty.
Shop Akira Beauty