La Mer Makeup Is Here and We're Ready To Go Broke For It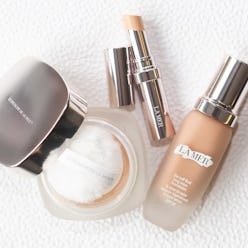 When it comes to skin care, there's no doubt Allure editors take things very seriously. Which is why their editors routinely name Crème de la Mer as one of their favorite face creams. But now we can get that coveted Miracle Broth in other forms: Meet La Mer makeup—properly named Skincolor de la Mer—the first full range of color cosmetics from the luxury skin-care label. The collection, much like La Mer as a brand, is seriously refined, with just three products including the Soft Fluid Long Wear Foundation ($110), a concealer ($75), and a loose powder ($95). Foundation and powder brushes will also be released, retailing for $70 and $80 respectively, with each one tailored to the precise application of a liquid formula or the light-as-air touch required for a loose powder. And you can shop everything starting today on lamer.com—because if nothing else, you deserve to #treatyoself, right?
"Consumers are so sophisticated that they do expect multiple benefits in a product. It's no longer, 'This product will do one thing.' It has to serve you in multiple ways before it's worthwhile," Sandra Main, global brand president of La Mer told WWD, emphasizing that while the makeup has skin-care-worthy ingredients, it shouldn't replace skin care.
And that's what I love about this line of new makeup. In the interest of full disclosure, I haven't actually tested it yet, but there's nothing more exciting than a new multitasking beauty product. Moreover, I really don't doubt that it's going to be freaking incredible stuff. Take, for example, the Soft Fluid Long Wear Foundation, which is infused with so many good-for-your-skin ingredients I can't help but wonder whether I could just skip my morning skin-care routine. While La Mer does flat-out disagree—as I mentioned above—the luxe skin-care line did tell WWD that "[the foundation] works like a skin-care product and even after someone takes it off at night, it's still making their skin better. The more you use it, the better results you see."
With an impressive 18-shade range for the foundation, four different colors of concealers and a translucent loose powder that could potentially be spun from silk (OK, making that last part up), I'm pretty sure I'm going to nab the whole collection. I know, I know, it's pricey—but I'm not sure I can put a price on my skin.
I'm planning on giving the La Mer makeup a test-drive this week and will update this post regarding how the new La Mer makeup works on my skin, how it feels, and of course, how it looks on my vanity.
For more on why this line so impressive, check out the full article on Allure.
By Rachel Jacoby Zoldan, Deputy Digital Editor