How A Reflexology Foot Massage Released My Tension From Head To Toe
miodrag ignjatovic/E+/Getty Images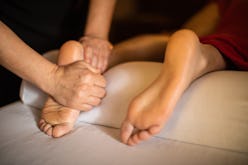 I don't love my feet. They're big, with proportionally big, wide toes. I'm barefoot a lot, so they're calloused and sometimes dirty. I even gave up nail polish in an effort to lower my body's chemical burden, so I can't hide my not-very-nice-looking feet behind a pedicure anymore. Last month, on a weekend vacation in Mexico, I went to take a picture of my feet in the sand to text my husband, and I couldn't bear to press send. They looked deceased! Missing only a toe tag! So I booked a reflexology foot massage at the hotel spa, because my poor feet were stressed, and they deserved better.
Read more: Vibrating Facial Massage Tools Are Effective — But Are They Safe?
My feet (and head, and back) were particularly out of sorts at the time. It's a long story, but it involves three flights — one missed — two lost bags, and an overnight stay at the Mexico City airport before finally (finally!) arriving at my destination: Zihautanejo, Mexico. If that sounds familiar, it's probably because Zihuatanejo is the paradisiac "little place right on the Pacific" immortalized in Shawshank Redemption. But Zihua, as the locals call it, has changed quite a bit since the 1940s, and my beachfront room at the Thompson Hotel was arguably more luxurious than wherever Andy Dufresne ended up.
Anyway, my aching feet. After a mezcal cocktail (or three) by the water, I shuffled them up to the spa and was given a choice: full body massage or foot reflexology. An hour of foot-focused attention sounded more delicious than the fresh-caught tuna ceviche I'd had for lunch, and I hadn't experienced reflexology before, so I opted for the latter. First I had to fill out the usual safety and consent forms, including one that asked me to detail where I hold stress in my body. Upper shoulders, lower back, I wrote, figuring it wouldn't matter anyway. Wasn't I getting a foot massage?
Not exactly. The theory of reflexology, it turns out, is that the feet control the rest of the body. Pressing a point at the inside of the arch (supposedly) relieves lumbar pain. Massaging the pad of the pinky toe releases shoulder tension. The tips of the toes correspond to sinus pressure; the area above the heels is somehow connected to the knees. It's based on the traditional Chinese medicine teachings of "qi," or life force energy, and aims to "unblock" the flow of energy to certain body parts by applying energy to others — hence, why my masseuse, Rosie, focused on my arches and pinky toes.
There's not a ton of hard science to support it, but let me tell you, my 60 minute session with Rosie was a personal study in the power of reflexology. I mean, I knew my feet ached — but I had no idea how much full-body tension was hiding out down there. I walked out of the treatment room feeling loose and free from neck to toe, and straight to the edge of the Pacific for a DIY sea-salt-and-sand pedicure. My toes, for once, were stress-free, callous-free, and yes, worthy of a picture.
"Was the trip worth it?" my husband asked when I arrived back home, travel-weary and bleary-eyed from yet another delayed flight; in total, I spent more time traveling to and from vacation than on vacation. Still, my answer was yes. I'd fly the 2,170 miles from Savannah, Georgia to Zihuatanejo, Mexico again, if only to place my feet in Rosie's hands.