Hilary Duff Is Officially Engaged — & Her Ring Is So Stunning
Brent N Clarke/Invision/AP/Shutterstock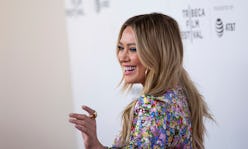 It was only a matter of time before Hilary Duff and Matthew Koma got engaged. The Younger actor is constantly posting lovey-dovey pictures of her and the singer together between photos of their adorable 6-month-old baby, Banks. Now, the couple is making it even more official with a wedding in the works.
Duff met Koma in the studio in 2015 while she was working on her Breathe In. Breathe Out. album and the two have looked to be inseparable since. This past fall, they welcomed Banks Violet, Duff's second child (she also has a 7-year-old son, Luca, with ex Mike Comrie), to the world. Now, they'll soon be tying the knot.
When she's not busy filming her comedy series, Duff is constantly showing off her new family of four on Instagram, and anyone who's been following the couple's romance over the past few years has been waiting for this moment for a long time.
The actor announced the big news on Instagram by sharing a photo of her dazzling diamond ring, of course. Her groom-to-be posted the same photo on his channel, too, along with the sweet caption, "I asked my best friend to marry me."
In fact, Duff and Koma sparked engagement rumors even before the baby came, when the actor included another ring — a Fox and Bond gold band with five inlaid diamonds — in an Instagram selfie. This time, it's the real deal — there's no mistaking it with that giant rock.
A colossal square-cut diamond on a gold band, Duff's engagement ring looks simple from what you can see in the picture. Minimalistic yet big enough to get your attention.
As public as they are about their relationship, they kept details about the proposal a private affair, understandably. They did, however, drop a hint by tagging themselves in New York (although they bounce between the two, the couple's full-time home is Los Angeles).
While there are no details yet about the wedding, you can go ahead and pass the time by daydreaming of how beautiful Duff will look as a bride.