HAUS LABORATORIES' First Eyeshadow Palette Just Dropped & It's Full Of Unexpectedly Wearable Shades
Courtesy of HAUS LABORATORIES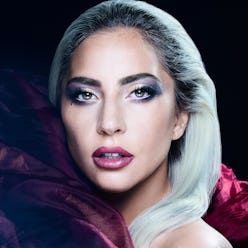 Where were you when Lady Gaga's debut album dropped, back in 2008? The Fame was a record so era-defining that it's safe to say you may remember the exact time and place you first heard "Just Dance" or "Pokerface"; indeed, it launched Lady Gaga's meteoric rise to superstar status (a position she's easily held onto). But musical talent aside, the entrepreneurial entertainer is also making waves with her newly minted beauty brand — which just dropped its first ever eyeshadow palette, HAUS LABORATORIES' Glam Room Palette No.1. And naturally, it's inspired by the album that started it all.
When Lady Gaga's line first became available to shoppers in July (on Prime Day, a date fitting of its retail partnership with the mega online marketplace), it included edged-up essentials like lip liner, richly pigmented gloss, liquid eye shimmer, and actually foolproof eyeliner. But what the brand hadn't yet introduced, you might've realized, was a staple eyeshadow palette. Until now.
And though HAUS LABORATORIES' Glam Room Palette No.1 is dropping in conjunction with the rest of the brand's Cosmic Love holiday launches, Lady Gaga and her team want you to know that it's meant to be much more than a festive palette for parties.
"This isn't just a holiday palette. It's always supposed to be in your glam room, sitting on your vanity," Sarah Tanno, Haus Laboratories' Global Artistry Director explained in an official statement. "We wanted to make a cohesive collection of makeup that you will use beyond New Years Eve, starting with our very first palette."
The 10-shade palette, $34 and available on Hauslabs.com in addition to Amazon, is dubbed the "FAME" palette after Gaga's inaugural album and includes matte, metallic, and shimmer hues that are blendable, longwearing, and most notably, versatile. Warm peaches and browns are alongside pinks, plums, and deep black, with glowy gilded colors in between. Not what you'd have guessed from someone known for her offbeat aesthetic? Gaga thought that might be so.
"I assume many would expect my first palette to be full of crazy colors, but the truth is when I was first discovering my identity, self-love, and compassion, I used colors that would contour, shape, and amplify my look in a way that made me feel beautiful. That made me feel famous from the inside out, even when no one knew who I was," the musician said in a post on her own Instagam feed.
Those words in mind, the FAME palette's wearable color range is a perfect addition to Gaga's burgeoning beauty career — and a promising indication of what's sure to come next. Want to get your hands on your own slice of fame? Shop the new launch, below.