Here Are The First Products Coming To HAUS LABORATORIES, Lady Gaga's New Beauty Brand
Courtesy of HAUS LABORATORIES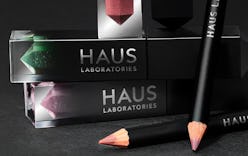 Ever since HAUS LABORATORIES was revealed on July 9, one question has gripped makeup fans, little monsters, and what seems to be a majority of the internet: what, exactly, is in Lady Gaga's new beauty line? Fortunately, shoppers didn't have to wait long to get their intel; HAUS LABORATORIES pulled back the curtain on its first makeup release July 11, spilling the highly anticipated details about its upcoming Sept. launch.
And if you guessed the makeup was going to be a bit edgy, you would be correct. HAUS LABORATORIES' first launch will feature six kits, known as HAUS Collections, which each include three products — a lip liner, lip gloss, and multi-use pigment (or "all-over color" as it's described in the press email) called Glam Attack. Retailing for $49 per kit, the collections' names read like Lady Gaga song titles: HAUS of Goddess, HAUS of Rockstar, HAUS of Dynasty, HAUS of Rose B*tch, HAUS of Metal Head, and HAUS of Chained Ballerina — which was already swatched and revealed by the brand, too.
Wondering why HAUS LABORATORIES would include a liner and a lip gloss, instead of a regular lipstick? That question's been answered, as well. HAUS LABORATORIES' RIP Lip Liner is described as a creamy, precise lip color that wears like a lipstick, whereas the Le Riot Lip Gloss can be worn on its own or layered over the liner's shade.
As if that wasn't enough, HAUS LABORATORIES will also be launching limited-edition duo sets focusing on specific products. You can pick up the Glam Attack Shimmer Powder Duos for $36, the Le Riot Gloss Duos for $32, or the RIP Lip Liner Duos for $26.
Most importantly, though, is the exact drop time — because this launch may sell out quick. HAUS LABORATORIES will officially be available for pre-order at HausLabs.com and on Amazon.com/HausLabs starting at 3 a.m. ET (or midnight PT) on July 15. Products are expected to arrive in Sept., which marks the global launch.
And while Gaga is an icon, the same could be said about the retailer she's partnered up with — and the pre-order date just so happens to fall on Amazon's famous day of deals, Prime Day. "Starting this Prime Day, we're thrilled to be the exclusive global retailer and home for HAUS LABORATORIES," reads a quote from Nicolas Le Bourgeois, head of Amazon Beauty, in a press email.
"Beauty is a category in which customers seek to be inspired and become their own experts, all with a confidence to try new things — Amazon Beauty, like HAUS LABORATORIES, strives to embody this," Le Bourgeois continued. "This collaboration allows us to continue empowering all customers, Prime members and little monsters alike, to discover and buy their favorite beauty products online."
Make sure you visit HAUS LABORATORIES' website or swing by Amazon on July 15 to pre-order Lady Gaga's newest creations.