Haus Laboratories Just Kicked Off Its Official Launch With The Products We've All Been Waiting For
Haus Laboratories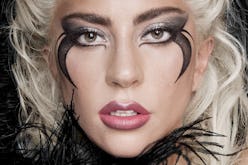 Bright and early on Sept. 17, a calendar reminder you may've set weeks ago probably began to chime — because this is not just another Tuesday. It's Haus Laboratories' official launch day, and Lady Gaga's beauty brand is kicking off the celebrations with never-before-seen products that weren't available during the Prime Day pre-order. Chances are, they're the beauty buys you've been waiting for Lady Gaga to drop, too. Haus Laboratories new Eye Armor Kit and Liquid Eye-Lie-Ner were just unveiled, meaning fans can now achieve the musician's signature cat-eye look using products created by Lady Gaga herself.
Yes, even if you've never picked up a liquid liner before. The $35 Eye Armor Kit includes the new Liquid Eye-Lie-Ner liner as well as 10 pairs of reusable, wing-shaped eyeliner stickers created in collaboration with Face Lace by Phyllis Cohen — a beauty brand Gaga has personally used before.
The Haus Laboratories and Face Lace collab couldn't be simpler, too: All you have to do is pick out which sticker you want (each pack comes with thicker, shorter "Wingtips" and longer, flicked-out versions), press the sticker onto your clean skin, pat it gently, and line the rest of your eye using the included liner.
Anyone who already has their cat-eye mastered can buy the Liquid Eye-Lie-Ner separately for $20. In a matte, black shade named "Punk", the felt-tip liner features a waterproof, cruelty-free, and vegan formula that promises to go on sans feathering, skin tugging, and flaking. And if you want something more complex, then just check out the Armor Masque No. 1, a $25 skin-safe sticker set that creates the illusion of an intricately designed eyeliner mask.
"Between developing formulas, mixing the shades, designing the packaging and components, as well as casting the models and collaborating on styling, direction, and being the creative director, pulling all-nighters making boards that showed all our imagery and art—this launch is so very special to me," Gaga herself wrote on her own Instagram account back in July. "This is a labor of love and passion to be the Warhol of an artist I've always wanted to be."
You can find Haus Laboratories' products on HausLabs.com and on Amazon's website — with a global Amazon release coming Oct. 1, according to Haus Laboratories' Instagram. Below, Haus Laboratories' latest releases, officially available as of Sept. 17.