This Cool Pearl Nail Trend Proves That Everything Old Is New Again
Courtesy of Khalea Underwood.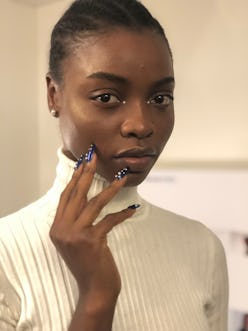 Typically, pearls are more reminiscent of your grandmother's jewelry box... or perhaps Blair Waldorf's Upper East Side-friendly wardrobe. But at Adeam's Fall/Winter 2019 show on Feb. 9, the pearl nail art trend showed that the jewels can be just as edgy as those wild designs you secretly screenshot on Instagram.
Lead nail artist Mei Kawajiri created a whimsical design (sponsored by OPI) that included two different sizes of pearls on the nail. "So much of the collection [has] so many pearls, so we decided to use them [on the manicures]," Kawajiri, AKA Nails by Mei to her 139,000+ Instagram followers, tells The Zoe Report backstage.
Kawajiri used two different polishes from OPI's new Tokyo collection (which launched this month) to create the look on clear nail tips. On some nails, she swiped on two coats of Chopstix and Stones — a gorgeous navy with hints of shimmer. On the others, she painted three coats of Judo'nt Say?, a semi-sheer, soft petal pink. "I love this color, personally," Kawajiri notes. "It's clear, but there's so much pink glitter inside."
Afterwards, she and her artists placed the pearls on each nail by hand, mixing the placement ever so slightly with each tip. "I think we spent about 12 hours total making these nails," she says. "For 28 models, we made 500 nail tips." The reason why Kawajiri used two different sizes was for the sake of dimension — she wanted the audience to pay attention (and rightfully so). "I used the big ones and small ones to stand out," she says. "I want the nails to show during the show."
Regarding the shape, Kawajiri said that the initial plan was to do square nails, like last season, but they eventually landed on a rounded almond edge instead. "An almond shape is more trendy and more feminine-looking," she explains. "Not too pointy. I think I like this one better!" And a feminine accessory like a pearl is deserving of a feminine nail shape.
After seasons of popping crystals and rhinestones on the nails, Kawajiri is excited about the prospect of bringing pearls back on to the nail art scene. "Pearls look more classic than a crystal or a rhinestone. I can't imagine if I did this design with crystal," she says. She isn't wrong — with the dark navy and feminine petal, the nails look at Adeam was elegant with an unexpected twist.
The makeup, keyed by Sada Ito, NARS Global Artistry Director, possessed a similar aesthetic. Using eyelash glue and tweezers, Ito placed tiny white pearls in the corner of each model's eye, leaving the complexion fresh and glowy. "There's no color on the skin. Just highlight," he notes. Ito mentions that Adeam's designer, Hanako Maeda, was inspired by the Ainu people of Hokkaido, Japan's northernmost island, where the indigenous population "lives in harmony with Mother Nature," according to WWD. "They don't lead a typical Japanese lifestyle," Ito notes. "They have a special lifestyle. I wanted to make [the girls] look really pure and strong, too."
Sure, anything shimmery is a fun and easy way to play with beauty. But if you're looking for something a little unexpected, pearls might be the new way to go. After all, everything old truly is new again.