Great Jones Is Set To Be The Next Cool Cookware Brand To Disrupt Your Kitchen In 2019
Great Jones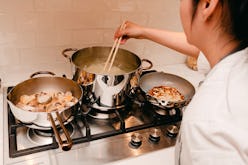 With health, financial, and emotional benefits galore, pledging to cook from home frequently tops New Year's Resolution lists all over. If you fall into the category of those trying to chef it up more this year, you'll want to make sure your kitchen is equipped with the supplies you need — so you don't give up after several failed attempts at a perfect poached egg or roasted chicken. Even better? If said supplies are as pretty as they are practical. Enter a stylish solution to save you from cooking catastrophes before they even happen: the chic Great Jones dutch oven is about to change the way you look at cookware.
When it comes to pots and pans, you're probably not envisioning something that's necessarily high style — you pretty much just need something that gets the job done, right? That's why new cookware brand Great Jones saw an opportunity to create something that stands out from the pack. The women-owned company sought to create cooking supplies that empower everyone to cook more often, and considering how good the brand's set of versatile pots and pans looks, it's safe to call it a mission accomplished.
And while you can grab yourself Great Jone's entire collection via the aptly named five-piece "Family Style" set for $395 (a seriously great price considering how expensive good cookware can get), you'd do just as well to start smaller with just a piece or two that best serves your kitchen needs.
With winter stretching far into the foreseeable future, the brand's cheekily dubbed $145 dutch oven, The Dutchess, is a great buy for cooking up large batches of soups, stews, and roasts that'll keep you warm on cold nights. The enameled cast iron oven can seamlessly go from stovetop, to oven, then directly to your table for serving. And since it comes in five chic colors, from a sleek Earl Grey to a vibrant Mustard Yellow, you'll actually want to show it off to guests.
The rest of the collection is just as stylish, thanks to the pieces' high shine, easy-clean stainless steel finish and contrasting brassy-hued handles that stay cool to the touch. Grab the three quart $85 Saucy pot for cooking healthy grains like quinoa or farro (it can handle up to six cups!), and snag the non-stick Small Fry pan, $45, for whipping up omelettes or searing fish. And the entire line gets major bonus points for being dishwasher safe, which means more cooking and less cleaning.
If you're hoping to do lots of cooking in your kitchen this year, set yourself up for success with pots and pans that lend a helping hand — and add major style points to your stovetop. Keep scrolling to check out Great Jones' chic new cookware that'll motivate you to make something yummy nearly every day of the week.