You'd Never Guess This Stunning Chandelier Is From IKEA
alexandre zveiger/Shutterstock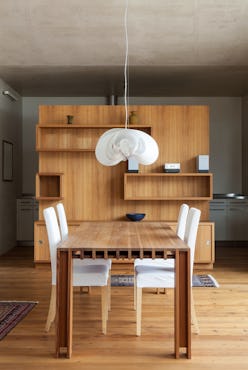 In the home decor world, there are some items that reign supreme in one's mind — sofas, dining tables, accent chairs, lamps, etc. Then there's those items that are back-burner buys. You know, the ones you admire in stores and in friend's homes but never get around to actually buying for yourself. Chandeliers often fall into this category, most likely because they seem like an extravagant purchase. But, did you know there's a plethora of gorgeous chandeliers out there for as little as $100 or less?
The affordability of this underrated home good might bump it up on your list of priorities — and with good reason. Chandeliers have the ability to instantly brighten up any room (literally) and, these days, are easier to implement than ever. Many brands offer installation for a small fee and many homes and apartments already have fixtures in place in ceilings for chandeliers and lighting to be connected. So, swapping out or adding in a stunning, lighting piece is often just a matter of picking the right one for you.
While an extravagant vintage fixture definitely has its appeal, it's not everyone's cup of tea. Gone are the days of gaudy chandeliers with a plethora of self-lit candles and elaborate gems and metallic detailing. Luckily, there are plenty of affordable options for a variety of aesthetics that will meet the needs of your decor scheme and your wallet.
For example, those with a more minimalistic eye, might enjoy a simple pendant chandelier with one, two, or three lights. Or perhaps a drum pendant in a neutral hue will work with your classic room scheme. Either way, plenty of major brands are offering simple structures with maximum impact.
And if your home walks a bit more on the eccentric side, go for some drama in the form of a beaded empire fixture that will spotlight a dining room perfectly. This silhouette comes in a variety of materials, including metal and glass, for a bold effect that will draw eyes. Because of their boldness, try them in a living room or bedroom as a central accent piece.
There's also plenty of lighting options for those with a more bohemian aesthetic. Fixtures made of macrame, wood, and artisanal beads are in abundance these days thanks to brands like Anthropologie and World Market. The silhouettes are aplenty, as well. You can find a pendant or sphere fixture that'll work with the boho decor in any room. Heck, there's even woven and wicket options that look like stunning floating baskets. Try them in your kitchen or over your dining table.
So you see, chandelier's might be the home decor MVP your space needs for a little spring pick-me-up. To properly prove the variety of affordable chandeliers at your fingertips, ahead you'll find 10 worthy options that range from simple and functional to flat-out eye-catching and overtly dramatic. Oh, and they're all under $100. Get ready to light things up.