Glow Recipe's Latest Moisturizer Proves Bananas Are Still A Serious Superfruit
Courtesy of Glow Recipe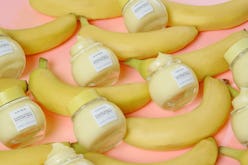 Play a game of word association with a Sephora aficionado, and throw out the word watermelon — and you'll instantly hear back Glow Recipe. Same goes for pineapple, blueberry, and, thanks to its last retinol-related release, avocado. The popular K-beauty brand has made a name for itself by transforming grocery store staples into luxurious, Instagram-worthy skin care (that seems to grow wings and fly off the shelves all by itself). And Glow Recipe's new Banana Soufflé Moisture Cream is no different. Available for pre-sale on Sephora's app starting Dec. 4, the new moisturizer transforms the humble banana into something almost completely unrecognizable.
Well, if not for the color. Glow Recipe's $39 Banana Soufflé cream is a telltale shade of pastel yellow that looks like the dreamiest, creamiest, banana-filled smoothie ever blended into existence — even though the formula relies on banana water, according to Byrdie's behind-the-scenes look at how the moisturizer is made. The intriguing ingredient acts as a source of hydrating potassium and useful magnesium, which helps keep your skin barrier happy, healthy, and properly balanced, moisture wise. Take that, other superfruits.
Besides the banana water, the Banana Soufflé cream gets its kick from a brightening vitamin mix (A, B, and C), antioxidant-packed turmeric, redness-fighting Centella asiatica (commonly nicknamed "Cica"), and fatty acid-filled chia seeds. This makes the lightweight cream especially useful for anyone with dry skin, though it is safe for all skin types.
Naturally, Glow Recipe made it easy to integrate the new cream into your pre-established skincare routine. You can pat on a dollop of Banana Soufflé cream as the next step after your serums both in the morning and before you hit the hay, or create an extra-brightening version by mixing in a drop of Glow Recipe's Pineapple-C Bright Serum.
To shop Glow Recipe's new Banana Soufflé Moisture Cream, find it on Sephora's app for pre-sale Dec. 4. Or, pick it up when the new moisturizer arrives on its website Dec. 5, and at brick-and-mortar stores Dec. 27. Below, the new superfruit-inspired moisturizer, exclusively available now on the Sephora app.