The Smoothie Ingredient That Belongs In Your Skincare Routine, According To Derms
Boscia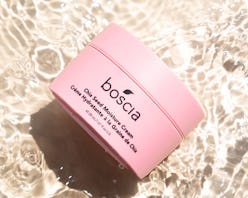 Anyone who knows me knows I love an ingredient that I can slather on my face and stir into a smoothie, and my latest obsession is so on-brand it hurts. I'm talking about chia seeds — yup, those small-but-mighty kernels you've been buying from Whole Foods for years. You probably know and love them for their health benefits; but in my humble opinion (and, you know, the opinion of dermatologists), chia seed's skin benefits might be even better.
"Chia seed oil is known to be high in fatty acids like Omega-3," Dr. Aanand Geria, M.D., F.A.A.D., a dermatologist with Geria Dermatology, tells The Zoe Report. Omega-3 is what's known as an "essential fatty acid;" essential because while the body needs Omega-3 to thrive, it can't produce it on its own — it has to get those precious fatty acids from your diet. Omega-3s help fight inflammation in the body; contribute to healthy cholesterol levels; and promote heart health, liver health, and eye health. So, where does the skincare part come in? "Omega-3 fatty acids are also considered the building blocks of healthy skin cells," Dr. Geria says.
"Omega-3 fatty acids, ceramides, and cholesterol are found naturally in the skin barrier," Dr. Devika Icecreamwala, M.D., a dermatologist with Icecreamwala Dermatology, tells TZR. She says a strong barrier is pretty much the key to healthy, happy skin: It protects against environmental damage, keeps out invaders (like pathogens, dirt, and debris), and locks in moisture by preventing something known as TEWL (Trans-Epidermal Water Loss). "It keeps skin hydrated, plump, and supple," Dr. Geria says. "Long term, the Omega-3s in the skin barrier keep skin looking young." Take that in for a second: Omega-3s are an integral part of your skin barrier, which is arguably the most important layer of your skin... but the body can't make it alone. Enter: Chia seeds. Whether you're slathering them on your face or stirring them into a smoothie, they'll help boost your Omega-3 levels (hence, my obsession).
"Chia oil is one of the richest plant-based sources of Omega-3s that exists, which makes it incredibly nourishing and moisturizing when used on the skin," Priscilla Tsai, the founder of Cocokind Skincare, tells The Zoe Report. The brand's star facial oil is made of 100 percent chia seed oil (infused with chamomile flowers), and Tsai cites reduced puffiness and a visible glow as two of its core benefits.
"Chia seed oil is actually proven to help skin hold onto as much moisture as possible," Lan Belinky, the co-founder of Boscia (which just launched its Chia Seed Moisture Cream), adds in an email to TZR. "Similar to how actual chia seeds soak up moisture and become plump, the oil has that kind of effect on the skin." Basically, you can say goodbye to fine lines, dry patches, and dullness. Oh, and redness and pimples. "Being that fatty acids are anti-inflammatory, they help to soothe the skin from any irritants," Dr. Geria says.
But chia seed oil's benefits don't stop there. The substance is also a powerful antioxidant, which helps to defend against pollution particles and the negative effects they can have on your skin (like premature aging and inflammation).
The best thing about chia seed oil, though, is that anyone can benefit from it. A healthy skin barrier is essential for all skin types — dry, oily, acne-prone, or other. "Because it helps boost your skin's suppleness, it's especially great for dry or mature skin," Tsai adds. Per Dr. Geria and Dr. Icecreamwala, there aren't any risks to note with this ingredient (unless, of course, you're allergic to chia seeds). "We do recommend storing chia seed oil away from direct light or in a bathroom cabinet to preserve the shelf life," Tsai says.
To recap: Omega-3 fatty acids are the building blocks for both skin cells and the skin barrier. Your body can't synthesize it all by itself. Chia seeds have OMG-levels of Omega-3s, so they almost definitely belong in your diet and on your face.
Ahead, 10 ways to supplement your skincare routine with a serving of chia seed oil.
Shop Chia Seed Oil