Fans Of Glossier's Cult-Adored Fragrance Will Love The Brand's Valentine's Day Bundle
Courtesy of Glossier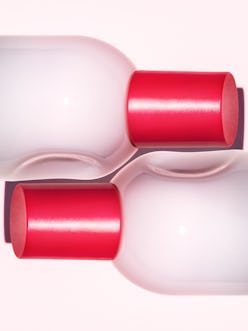 Just when you, not to mention your bank account, have finally recovered from the flurry of present-hunting that occurs over the holiday season, another annual gift exchanging event sneaks right up on you: Valentine's Day. And on this lovey dovey day, it's personal — so your gift should be, too. Fresh out of ideas? Thankfully, Glossier's Valentine's Day bundle will fit the bill for beauty lovers with a limited-edition trio of thoughtful essentials (and save you some money, to boot). Effortless gifting in one, two, three.
Glossier's one of those beauty brands that's seemingly got no shortage of good ideas. A limited-release scarf for brand-obsessives who already have every product? Yep. An on-the-go edit that's TSA-approved? You bet. Amongst those genius drops are its numerous bundles, which group together products you'd probably add to your cart at the same time anyway for easy shopping and some much-appreciated savings.
And just in time for Valentine's Day, Glossier dropped an all-new bundle on Jan. 14 that's particularly fit for the occasion — whether you've got someone special to pamper, or a major date you'll want to be primped to perfection for. Plus, it's customizable with just a couple clicks.
The hero of the limited-edition Glossier You + Pro Tip + Lip Gloss Bundle, $75, is the brand's popular fragrance, which is actually personalized in its own right. The "skin first" scent has notes of earthy iris root and spicy pink pepper that adapt to the unique chemistry of the wearer, so it won't smell exactly the same on any two individuals — which means it's an extra thoughtful choice for a Valentine's Day fragrance that celebrates the individuality of your sweetheart.
The bundle, which is valued at $90, also includes Glossier's recently-launched Pro Tip liquid eyeliner that features a smudge-resistant black formula and a flexible brush point applicator for foolproof winged liner every time. And to round out the selection, you'll get to pick a shade of the brand's lip gloss from three options: clear, holographic, and red (the latter of which would be particularly fitting for the holiday).
Remember, this bundle will only be available for a limited time — so act fast if you've got a special someone to treat this Valentine's Day (and that most certainly can include you). Shop the fragrance and makeup set from Glossier, below.