Glossier Just Launched A Game-Changing Eye Product (That Doesn't Involve Brows)
Courtesy of Glossier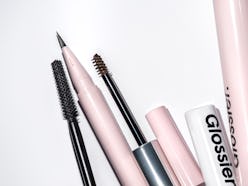 Sound the alarms and alert the beauty obsessives in your life because less than a month after Futuredew launched, the Glossier Pro Tip & Eye Trio are bringing more newness to the crowd-favorite beauty brand. An actually easy-to-use liquid liner plus the triad of tools you'll want on hand for crafting a sleek, statement-making eye? Sounds like a shoo-in for gifting every single makeup lover in your life during the holidays.
The first liquid eyeliner for the brand hopes to be everything you'd want, delivering a quick flick of true black color that's as effortless to apply as it looks. Pro Tip, $16, relies on a flexible fiber brush tip that should hug your lash line, so you can expect precise application and control over how think or thick you draw your line. A shaker ball inside the ink chamber ensures even, continuous flow from the liner tip (aka no drag as you draw on your cat-eye).
Plus, the true black concentrated pigment is designed to dry down quickly and stay put for up to 12 hours — which hopefully means you can say goodbye to smudged, smeared eyeliner for good.
Use Pro Tip for a thin, minimalist line along your upper lids or bolder, more graphic looks; the versatile formula and maneuverable applicator means this one does it all. And don't worry if you mess up while experimenting, because Pro Tip's arrival is ushering in a combo set that'll have just what you need to wipe the slate clean while you wing it.
Glossier's new Eye Trio, $36, bundles together the just-dropped Pro Tip with Lash Slick mascara and Milky Oil waterproof makeup remover. So, snagging the set (which saves you $8 versus buying the products separately) gives you what you need to create and remove polished, effortless eye looks.
As with any of Glossier's products, Pro Tip works just as well worn alone as it does when applied with the brand's other buys. Try a swoosh of Pro Tip across your lash line to enhance eyes treated with Lidstar eyeshadow — or keep a very clean look by complementing lined lids with a simple swipe of the brand's cult-loved Lip Gloss.
Add Glossier's latest drops to your arsenal (and check off any makeup enthusiasts on your gifting list) by shopping them, below.