This Is The Perfect Gift For For Glossier Fans Who Already Own Every Product
Courtesy of Glossier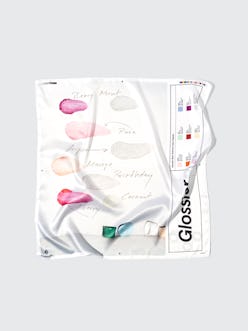 You'd think buying a gift for a diehard Glossier fan would be easy; they all have their favorites that you've probably heard them wax poetic about hundreds of times. But honestly, it's often pretty difficult. Why? Because Glossier fans already own everything. They know about new launches before anyone else and have been hoarding Balm Dotcom since the early days, so when it comes to shopping for them, there's often nothing left. Thankfully, though, that's not true this season — because on Dec. 4, Glossier launched a limited-edition Balm Dotcom Scarf that features every flavor of the longtime cult-favorite product, and it's sure to make any true fan *very* happy.
Because, as anyone who's ever tried to purchase a Glossier sweatshirt knows, it's nearly impossible to get your hands on the brand's merch before it sells out. Plus, like all of the brand's products, its clothing and accessories are always well designed — and this new $15 scarf (which is free with a purchase of $60 or more, by the way) is no exception.
The 22 by 22 inch silky scarf isn't just another product with Glossier emblazoned on it (though it does have that, too). It also features a picture from Swiss photographer Raymond Meier (who's shot many a Glossier product) of his own hand-labeled Balm Dotcom swatches. Additionally, the 100 percent polyester scarf provides sort of a behind-the-scenes peek at Balm Dotcom, with technical details like crop marks and color bars from the production process included throughout.
And, just like Balm Dotcom itself, there are limitless ways of using the accessory. Glossier's product description says it best: "Tie it around your neck, your hair, your wrist, your dog, your shoulders like a cape, use it as a wall-hanging, wrap a gift in it.... Endless possibilities." In other words, there won't be any getting bored with this present.
This isn't the only launch from the cool-girl beauty brand to note this holiday season, though. Hot on the heels of the 15 new sets Glossier released on Nov. 25 (along with an epic Black Friday sale shortly after), it also presented fans with The Skincare Edit on Dec. 4, a $50 set of mini versions of its six best-selling skincare products along with one of those stretchy pink logo headbands you see frequently on your Instagram.
But, like the Balm Dotcom Scarf, all of these new arrivals are limited edition — so you should probably add them to cart immediately if you want a chance of gifting (or owning) them this season. So head to the site now to shop, because there's no telling how long any of these new launches will be around.