Glossier Just Debuted Long-Wear Skin Care — Here's What It'll Do For You
Courtesy of Glossier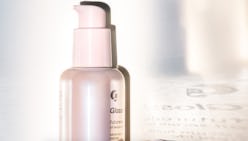 As you know, spotting the phrase "long wear" on a makeup product is usually a pretty good sign. It means that a foundation can withstand your 9 to 5 job, or that a lipstick won't fade away away the moment you take a sip of coffee. But seeing it on skin care is a whole other story — one that's basically unheard of. And yet, that's exactly the selling point of Glossier's new Futuredew oil-serum hybrid: Launching Oct. 14 on Glossier's website, the multifunctional product is designed to keep your gleaming, post-skincare routine glow locked in place well after you head out the door.
Better yet, Futuredew is more than just a glossy highlighter or dewy setting spray, and offers up a lit-from-within skincare boost all on its own. The $24 formula is made from four moisturizing oils — jojoba, grape seed, evening primrose, and rose hip — as well as plant-based squalane and brightening fruit extract sourced from Evodia Rutaecarpa (an ingredient used in traditional Chinese medicine).
When mixed together into one powerhouse formula, Futuredew's ingredients have more than a handful of benefits; the oil-serum hybrid hydrates your skin, evens out the appearance of texture, and helps create Glossier's signature woke-up-like-this glow. Though this time, that gleam won't vanish after your skin care has had time to sink in.
After you apply it (two pumps is all you need), you can choose if you top Futuredew with makeup or not. The product is meant to be the last step in your skincare routine and may even satisfy your desire for additional complexion products: Glossier added light-reflecting minerals to the mix, which give the formula a glowy, soft-focus finish that seriously lasts. In a clinical trial, the brand saw an increase in radiance in 93 percent of daily Futuredew users over 12 hours.
This all sounds incredibly appealing, yes — but skincare aficionados may have one burning question. Although a post-routine shine oftentimes is the star of many a selfie, that product-induced glow can often feel tacky until it sinks in. So, how does Futuredew actually feel on your skin? Miraculously, the formula is lightweight and not greasy. Khalea Underwood, The Zoe Report's beauty editor, got the chance to try Futuredew before it launched — and noted that it has a similar consistency to your standard serum, and doesn't feel overly oily or slick. Score.
So, the next time you pick up a new skincare product, factor in how long it's going to last inside and on top of your skin — because Glossier has started the long-wear skincare revolution. Ahead, the beauty brand's new Futuredew, available now on Glossier.com.