Lune+Aster's New Vegan Liquid Liner Gets Its Color From These Very Surprising Ingredients
IMAXTREE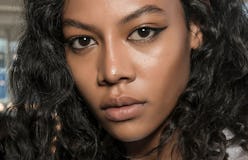 How often do you think about the pigmentation of your go-to eyeliner? Not talking about how dark it looks when it's on your eyelid here — as in, the actual source of the pitch-black pigments themselves? If your answer is "not too often," then join the club. However, Lune+Aster's new Dawn To Dusk Liquid Eyeliner may make you start wondering where those ink-like colors come from.
Or, more specifically, which ones you choose to include in your makeup rotation. Released this October, Lune+Aster's new liquid eyeliner was specifically formulated without the cosmetics ingredient carbon black — which, according to the Wisconsin Department of Health Services' website, is a form of carbon that can potentially irritate your throat, nose, and eyes (amongst other possible unwanted side effects). Instead, Lune+Aster used pigments derived from coffee, tea, and berries to achieve a similarly ink-black, long-wearing color.
In fact, the completely vegan formula is made from more than 75 percent natural ingredients. You won't find any parabens, phthalates, or gluten included in it, as well. And this doesn't mean you'll be paying extra for more specifically curated ingredients, either: Lune+Aster's new Dawn To Dusk liquid liner retails for just $24 at Bluemercury and on the brand's own website.
"I wanted a makeup brand that reflects the same wellness philosophy as my vegan lifestyle," reads a quote by Marla Beck, Lune+Aster's co-founder and CEO, on the beauty brand's website. "Lune+Aster is my very own line of vitamin-infused makeup with a growing selection of vegan essentials to make you feel good inside and out."
Better yet, it'll still perform like any traditional, not-so-natural eyeliners you have in your collection. Lune+Aster's liquid liner ticks the boxes makeup fans have come to expect: It promises to create a sleek line in one swipe, stay put throughout the day, and dry down to a matte finish. The tip of the liquid liner is flexible, too, so that you'll be able to wing out your liner with ease.
Below, Lune+Aster's new, vegan eyeliner — because it may be time to add a little coffee to your makeup routine, too.