Glossier Just Debuted The Skincare Product Every Makeup Lover Can Get Behind
Courtesy of Glossier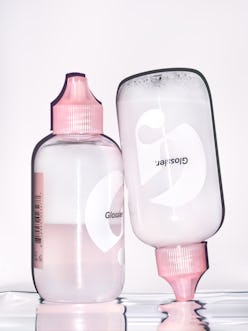 It's been a while since Glossier launched its Milky Jelly Cleanser in 2016, and since then, a lot has happened; namely, people started ditching their traditional face wash for micellar water. It could be because people realized how gentle it was, or simply because no one really has time to wash their face anymore. Whatever the case, there's no denying its popularity has grown enormously. And finally, Instagram's favorite beauty brand is getting in on the craze with its newly launched Glossier Milky Oil — albeit with a twist.
Glossier announced its newest product to the world on Feb. 19: A $12 waterproof makeup remover that combines micellar water and weightless oil, and is designed to dissolve long-wearing makeup on your eyes and lips. It also contains two ingredients found in Milky Jelly Cleanser: pro-vitamin B5, a natural moisturizing ingredient, and comfrey root extract, which can help heal dry skin.
How exactly does Milky Oil work? Much of the power of the remover lies in the micelles in the micellar water — aka microscopic spheres suspended in soft water, which cosmetic chemist Joseph Cincotta told Allure in 2018 "act like magnets for dirt and oil." Those, combined with the product's other key ingredients, result in a gentle formula that's designed to leave skin feeling soft, fresh, and grease-free.
If you're worried about using something around your eyes and mouth — a very valid concern — the product comes with a long list spelling out the need-to-knows. Specifically, Milky Oil is hypoallergenic, ophthalmologist-tested and approved, safe for sensitive eyes and lips, cruelty- and gluten-free, and vegan.
While that's admittedly a lot of information to take in about a makeup remover, Glossier's instructions for using the product are thankfully very simple: Just shake the bottle, squeeze the desired amount onto a cotton swab, and press against any waterproof makeup before gently wiping away. A press release from the brand also states that it's "optimized for targeted application on eyes and lips," so you can use it to to fix any mistakes when you're putting on makeup, too.
If you've long been a fan of Milky Jelly Cleanser (and of tough-to-remove makeup), this new product is an obvious addition to your routine. While it's no secret that Glossier's first face wash wasn't made to remove waterproof makeup (its page on the brand's site states that Milky Jelly Cleanser should be used to remove makeup unless it's waterproof), Milky Oil is clearly the solution, and was created to complement it perfectly. Just use the new product to wipe off any stubborn products, and then follow it with the cleanser directly after for your cleanest, makeup-free face.
Glossier's Milky Oil launch comes on the heels of a long list of exciting news from the brand as of late. In November 2018, the brand opened its new two-story flagship store in New York city and relaunched its crowd-favorite Generation G lipstick. And as recently as January 2019, it expanded its Skin Tint and Stretch Concealer ranges from five shades to 12. With its latest drop, Milky Oil, it's clear that Glossier's not stopping any time soon — something its 1.8 million-plus Instagram followers are no doubt thrilled about.
Shop the brand-new launch below, now.