This Is What A Dermatologist Has To Say About Glossier's New Zit Stick
Courtesy of Glossier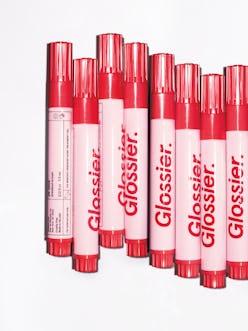 When Glossier drops a product, the world notices. It's pretty clear why — the brand has mastered the art of aesthetically-pleasing packaging and products that give you that perfect no-makeup look, and though it started with just a few products, it's expanded rapidly into both skin care and makeup with popular products like Milky Jelly Cleanser and the notorious Boy Brow. And now, it's coming for your pimples with the newest product from the brand: Glossier's Zit Stick, an acne treatment launching on the brand's site Sept. 6.
Created with combination of five percent benzoyl peroxide, capryloyl salicylic acid, and calming ingredients like niacinamide and glycerin, this new product is made to treat pimples without further inflaming your skin. Unlike many other spot treatments (i.e. the kind that leave conspicuous dots all over your face), Glossier's goes on clear — meaning you can wear it over or under your makeup and even reapply it throughout the day. And at $14, it's a skin care steal.
As with all products — especially those that treat acne — it's difficult to know whether or not they'll work before you try, and it's always a little nerve-wracking to test something for the first time lest it seriously disagree with your skin. But according to Dr. Joshua Zeichner, the Director of Cosmetic and Clinical Research at The Mount Sinai Hospital, Glossier's newest launch has just the right ingredient to target blemishes.
"While benzoyl peroxide is effective in treating all types of acne, it is my go to ingredients for red, angry pimples," Zeichner tells TZR in an email. "It works by lowering levels of acne causing bacteria in the follicles, calming inflammation."
Glossier Zit Stick, $14, Glossier
If you're worrying about your skin disagreeing with the product, Zeichner warns that while some people may experience irritation if benzoyl peroxide is used at a higher concentration, "true allergies to benzoyl peroxide are actually quite rare."
However, he goes on to warn that the ingredient can bleach fabrics — so if you're using the Zit Stick at night, it's probably a safe bet to switch out your expensive pillowcases.
True to form, Glossier's new launch is just as Instagram-worthy as the rest of its products. It comes in packaging that looks very similar to a washable marker, and is (naturally) millennial-pink and red. Its form isn't just for show, though — it's made to be a portable, pocket-friendly spot treatment you can throw in your bag for unexpected pimple emergencies.
Thankfully, it also seems pretty easy to use — according to a press release from the brand, you just click the pen until product appears and then press it against your zit up to three times a day. And should you be concerned with the fact that the product is directly touching your pimple, Zeichner explains that benzoyl peroxide itself is actually anti-microbial.
"So long as there is an appropriate preservative in the product, I am OK with a stick dispenser." His only warning? "Generally speaking, products that come into direct contact with the skin may have a shorter shelf life compared to those that can be dispensed in a more sterile manner." Given that it's small (and it's Glossier), that probably won't be a problem.