Glossier Play's New Products Are Totally Unexpected — & *So* Much Fun
Courtesy of Glossier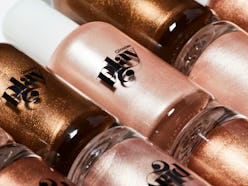 If Glossier was Into The Gloss' subdued, natural makeup incarnation, Glossier Play is like a wrecking ball — in the absolute best way possible. Since being announced to the world Feb. 22 (and before Glossier Play's launch), Glossier, Inc.'s new brand accumulated over 50,000 excited Instagram followers; even though fans didn't have a clue what Glossier Play even was. Well, the short, excruciating wait is over: Glossier Play launched March 4, and if you guessed bold, colorful makeup was on its way — you got it right.
Like Glossier, Glossier Play launched with four beauty products: the $15 Colorslide eye pencil, $16 Vinylic Lip lacquer, $20 Niteshine highlighter concentrate, and $14 gel-based glitters called Glitter Gelées. All together, there are 28 makeup shades, with 14 coming from the rainbow-hued Colorslide pencil (available in everything from mustard to magenta). Glossier Play also debuted two tools with the launch; the $4 Blade high-tech sharpener and The Detailer, a Glitter Gelée applicator that retails for $6.
So far, there aren't any skincare products available; as you can probably tell, Glossier Play is all about color. It officially designated itself in a press release as Glossier, Inc.'s "color makeup brand," and other branding included in the release featured phrases like "dialed-up extras" and "going out." You certainly could wear this makeup when you want to look au naturale — but you can also layer on the highlighter, glitter, and throw on a magenta cat-eye, too.
Like Glossier, Glossier Play's product designs feature cutting-edge brilliance. Available in six vivid shades, the Vinylic Lip lacquer comes in click-pen packaging, making it easy to apply the shiny (yet not sticky) lip vinyl. Glossier Play claims that the matte Colorslide pencil shades can last on your waterline for 8 hours, and 12 hours in other spots. Glossier Play isn't just bright, trendy makeup — it's well thought out beauty products you'll want to wear over and over.
Just thinking about how you're going to need to buy one of everything? Glossier Play expected as much. Grab The Playground from Glossier Play, a $60 set which includes one of each four beauty products, the Blade, and The Detailer. It's like the Glossier Play version of Glossier's sets: You get to pick which shades you receive and save $15.
Can't wait a minute longer, and want to put together your very own Playground set? Head over to the brand's site on March 4 to shop it all.