Logo Bags Are Fall's Must-Have Trend (And 2002 Us Is SO Happy)
Shutterstock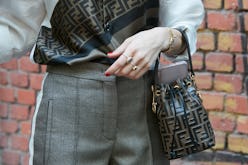 Designer bags are a serious investment no matter what budget you're working with. And often, because they come at such steep price points, those who choose to indulge typically do so by purchasing a classic style from their favorite designer in a neutral color, a timeless shape, or minimal embellishment. On the other hand, there are those with an affinity for the flamboyant, lusting after over-the-top iterations from bright colors to trimmings galore. This type of shopper is all about sartorial impact, making them a prime candidate for fall 2018's logo bag trend.
Caroline Maguire, fashion director at Shopbop, tells TZR that going big with a splashier logo is best. "Traditional logos will live forever," she says. "You waited so long for such an amazing purchase that you will want everyone to notice it. Wait for your next few paychecks for the traditional version, as it will be there still." While showier logos are, indeed, enjoyable, you want to ensure your look remains elevated. "Keep your apparel to solids," Maguire advises. "You don't want to crash with logo overkill."
Logos are hardly a novel theme to drift into the spotlight, but they've gained traction at warp speed. This fall, logos are evolving from the classic nameplates and insignia we know and love to sportier renditions (purists, don't worry, a range of traditional styles remain on deck).
Popping up across myriad designer runways from Fendi (who took inspiration from the classic FILA logo) to Prada (the entire collection was touched with futuristic, sporty elements) and Balenciaga (who debuted an oversized duffle silhouette), this new wave of logomania can best be described as in-your-face chic.
This summer also marked the return of Dior's iconic saddle bag (you likely recall it on the arm of a one miss Carrie Bradshaw in early seasons of SATC). Logo-emblazoned versions with gold-tone metal "CD" lettering took our Instagram feeds by storm, instantly becoming a lust-worthy piece that would keep its momentum for fall.
Marina Larroude, fashion director at Barneys New York, is equally keen on the logomania trend, explaining how it can work for every aesthetic. "Logomania is everywhere and you can touch on a trend as you wish," she told us. "I love the Fendi x Fila tote bag if you want to invest big in logo; I like how subtle the logo is in the background, juxtaposed with the new Fendi x Fila insignia. For someone who wants a less splashy version, I recommend buying a logo strap that can be added to any bag, or to choose a more classic bag with a subtle logo like the Givenchy G3 bag."
Another hot tip: Spring for a logo strap if you're on a budget but want to try on the trend. You can swap it for a regular strap on a classic bag and avoid the stress of investing too much in something new.
That said, not all fall logos are solely about athleticism — Givenchy, Céline, Miu Miu, and more put out elegant options where their brand name is clearly visible, but in a restrained way that befits those with a penchant for subtlety (but still want an in-demand designer label).
Ahead, 20 handbags and straps to shop now. Go on, get branded.