9 Gigi Hadid-Inspired Sneakers That Are Festive Enough For New Year's Eve
Josiah Kamau/BuzzFoto/Getty Images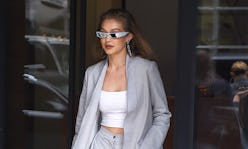 There are two types of people in the world: those who live in heels and those who simply can't stand them. Meghan Markle definitely falls into the former, as she frequents sleek and simple pumps more than any other style. Gigi Hadid, on the other-hand, is definitely the latter. Though she's certainly not opposed to donning a heeled bootie or pump, it's safe to say that she's a sneaker person through and through. If you're on the search for a practical yet trend-forward footwear option to wear to your upcoming New Year's Eve celebration, Gigi Hadid's impressive lineup of chic sneakers is bound to spark some ideas. Best of all? You can wear (and dance in) them all night long.
The 23-year-old model has grounded some of her most copy-worthy off-duty looks with sneakers. The footwear pick infuses all of her street -style ensembles with a subtle touch of cool, and her outfits prove time and time again just how elevated the athletic shoe can actually be. Whether she's sporting a blazer-and-shorts combo, a shiny jumpsuit, or easy, everyday jeans, Hadid isn't afraid to pick sneakers over heels.
One peek at her best sneaker outfits, and you, too, might just be inspired to kick your pumps aside. Ahead, three of Hadid's best sneaker-based outfits, as well as The Zoe Report's roundup of the most New Year's Eve-friendly trainers, all of which pay subtle homage to the styles the model wears on repeat.
The Chunky Sneaker
Hadid is no stranger to the chunky dad sneaker. In fact, it's one of the styles she wears most often — and with good reason. Typically designed with a lugged, orthopedic-like sole, the trainers boast incredible comfort and arch support. So, it should come as no surprise that the fashion-obsessed have been sporting the style nonstop the past few seasons.
As Hadid demonstrates so perfectly, the chunky sneaker works just as well paired with a refined, two-piece suit as it does with a pair of leggings. This New Year's Eve, step away of your usual party pump, and instead, slip into a pair of thick-soled kicks. Rock them with leather pants and a crisp white tee or style them with a flowy midi dress — the options are endless.
Shop The Look
The Platform Sneaker
Though platform sneakers are synonymous with Spice Girls-era fashion, they're back and bigger than ever — and Hadid is wholeheartedly on board with the nostalgic trend. Not only does the throwback style infuse every look with that coveted '90s flair, but it also gives you some height, just as a pair of heels would (sans foot pain).
Last May, Hadid donned a pair of optic white platform kicks with sleek leather pants and a tucked-in tee. Her hair was pulled back into a tight pony, and large, futuristic-inspired shades topped off the look. Though the model decided to rock the platform sneakers with a casual outfit, they can just as easily be worn with a velvet mini dress come New Year's Eve.
Shop The Look
The Metallic Sneaker
Name a sneaker that's more festive and fun than one with a metallic sheen. I'll wait. There isn't one, and that's why a pair of silver kicks are the perfect pick to work into your New Year's Eve lineup. Though Hadid wore hers to a hockey game, complete with a pair of black jeans, a Rangers jersey, and a hoodie, the lustrous trainers are just as much a party staple as they are an arena-friendly option. What's more, metallic pieces are seriously trending right now, so you can wear them long after the celebration is over, too.
If you're looking to dress up a more casual New Year's Eve outfit — say, a pair of jeans and a lace cami — slip into a pair of metallic sneakers for some added glitz and glam. Or, ground your dress-and-leather jacket combo with the shiny shoe for a look that's equal parts edgy and comfortable.
Shop The Look
This article was originally published on