Where To Shop The Chunky Sneaker Brand Gigi Hadid Keeps Wearing
John Sheene/ACE Pictures/Shutterstock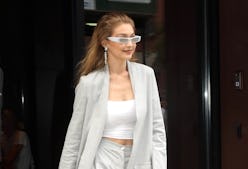 Finding fashionable shoes that are also comfortable isn't the easiest of tasks. That's what makes Gigi Hadid's chunky sneakers so great — the model's go-to shoe of late can be worn for errands, a night out, or even the gym. Bonus points if you style them with chic oversized blazers and cropped denim jackets like Hadid.
In recent weeks, Hadid's off-duty outfits have centered around the model's no-fail formula: jeans or leggings, an understated top, and the perfect, chunky sneakers. Although there's a massive crop of '80s-inspired, throwback sneakers on the market right now, Hadid seems to play favorites with ASH, frequenting the brand's Addict sneaker for a laidback look in between appoints in New York City.
The Addict sneaker (which retails for $280 and is still in stock) features multi-toned gray leather and mesh with an oversized, clunky body. Hadid opted for Ash sneakers in late June for the perfect, monochromatic look complete with cat-eye sunglasses and a blazer-and-shorts combo. And on the last day of New York Fashion Week, Hadid brought out the sneakers again, pairing them this time with white socks, black leggings, and a baggy, chambray button-down.
Suffice it to say, Hadid's wardrobe proves these versatile shoes aren't just for lazy Sunday outfits, but they can work with a sophisticated look, too.
Chunky sneakers are reminiscent of a time when permed hair and ripped tights were in, and Hadid, a pioneer of the modern normcore fashion movement, likes to pair them with other retro gear, like a cropped denim jacket, high-waisted jeans, and tall socks.
Although Hadid's shoes feature thick, striped laces and a multi-layered rubber sole that might have been considered cringeworthy only a couple years ago, the dad sneaker has continued to make a successful comeback. Bella Hadid, the Kardashian-Jenner clan, and Hailey Baldwin are also on board with the old-school trend.
Chunky sneakers go well with more than just athleisure apparel, too. You can pair them with cuffed jeans, long coats, and even short skirts and shorts. Better yet, elevate them with pencil-leg trousers and a wool trench, or opt for a casual vintage look with cut-off jeans and a t-shirt.
Want to experiment with Hadid's '80s-inspired street-style look yourself? Ahead, shop Hadid's go-to sneaker brand — including the pair she keeps in constant rotation.
Shop The Look