Over Boots Already? Try These Fall Shoe Trends Instead
Cornel Cristian Petrus/Shutterstock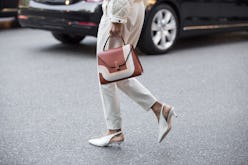 Ask plenty of trendsetters and they'll tell you: the pièce de résistance of any standout look is a striking pair of shoes. Come fall, boots are usually the outfit-finishing footwear of choice. Every September, the sandals go away, and women of all styles flock to purchase the latest cold-weather trend instead (cowboy, motorcycle, equestrian, or otherwise). And while they have always made for a perfectly sensible choice of footwear during chillier months, sometimes your wardrobe needs a little more variety, a splash of color, a fresh pair of heels. Which it's why it's time to consider an alternative: the best fall shoes that aren't boots at all.
Yes, it's time to embrace the colorful footwear that may have you rethinking your beloved boots for a fresher, less winter-driven choice. While this time of year tends to lend itself to more subdued dressing, in 2018 there's been no shortage of bold footwear to choose from instead.
Current favorites to consider: heels bedecked in vibrant shades of tweed, python-printed pumps, along with loafers and chunky sneakers in a medley of shades. For work, these statement-making styles can instantly elevate your favorite pair of jeans and a simple structured blazer. Or, when heading out for drinks with friends, they might add intrigue to a simple high-neck dress.
For some, the thought of passing over your beloved boots for evena few days this season feels like parting ways with an old best friend, but these fashion-forward options are set to become your new favorite footwear choices. Ahead, find the five need-to-own styles to shake you out of your seasonal boot rut — before you even get into it.
Colorful Kitten Heel
The kitten heel has been lingering around for the past several seasons, and this season's version is all about making a sartorial statement. Strappy sandals bedecked with jeweled heels or classic styles fashioned in cherry red make this one of our go-to choices.
Textured Mule
Now, more than ever the classic block heel has emerged with a new surge of fresh and innovative color combinations, bold sculptural heels, and unique fabric finishings. Show off your stacked block heel of choice by donning midi-length skirts or dresses in fanciful prints.
Snakeskin Heels
By now, it shouldn't be hard to convince you that animal print is the undisputed must-wear print of the season. When it comes to footwear, try a snake-print heel with a classic LBD. It will lend you just the right amount of edge you've been searching for.
Chunky Sneakers
This season the style set has spoken and chunky, dad-inspired kicks currently reign supreme as the must-own sneakers. Whether they're worn with dresses, skirts, or trousers, the chunky sneaker is sure to carry you all season long.
Unconventional Loafers
Loafers happen to be one of those staples that never truly goes out of style, and they continue to slowly evolve each season. This fall, this timeless footwear is getting a revamp thanks to unexpected colors, hardware detailing, and textured fabrics.