Gigi Hadid Can't Stop Wearing These Pearl Earrings (They're *That* Good)
Thierry Chesnot/Getty Images Entertainment/Getty Images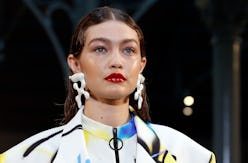 How's your accessories collection looking right now? If you feel like your jewelry box, specifically, is in need of a bit of TLC, then you might want to consider scooping up Gigi Hadid's favorite pearl earrings. They're not only super on-trend for summer 2019 (read: pearl-adorned anything is huge this season), but they're also quite affordable, too. Beware: Once you set your sights on Hadid's ear candy, you'll question ever reaching for another pair again.
The model set has officially taken Europe by storm. Practically every it girl, from the Hadid sisters to Alessandra Ambrosio and Irina Shayk, has been jet-setting from one fashion capital to another to walk the runways for Men's Fashion Week Spring/Summer 2020. That means the street-style outfits are plenty right now, too.
As per usual, the oldest Hadid sister, who's currently in Paris, has been churning out one covetable look after another. What's more, the getups that debuted on the Parisian streets this week might just be the model's strongest of the month. From colorful menswear-inspired suits to her most recent outfit — an all-black combo that was equal parts cool, casual, and comfy — the 24-year-old has been majorly playing with her off-duty style as of late.
But, there's one tiny facet that has remained consistent throughout nearly every one of Hadid's June 2019 outfits: a set of freshwater pearl earrings that's she worn not once, not twice, but a total of six different times this month alone. In other words, these might just be the model's most-loved jewelry find of all time — and it's easy to see why.
Hadid's favorite summertime earrings hail from jewelry brand, Adornmonde, and they won't cost you more than $138, which is quite a steal when compared to other options on the market. The model's go-to style, dubbed the Fortune Gold, includes four earrings — two gold hoops and two dainty studs, both of which feature a gorgeous freshwater pearl.
The 24-year-old model has worn the set together, but she's been mixing and matching styles recently, too. For her latest outing, she paired the dainty pearl stud with a daisy earring. She's also combined her Adornmonde pick with a long dangling earring that had an actual toy car hanging off it (yes, really), making quite a convincing case for the mismatched earring trend.
Freshen up your jewelry box by scooping up Hadid's exact set, plus more of The Zoe Report's favorite pearl earrings, below.
Shop The Look