Kate Middleton's Favorite Designer Creates Stunning Handcrafted Pieces That Do Good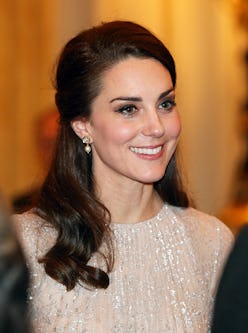 You may recognize designer Anita Dongre's striking creations on celebrities like Kate Middleton and Kim Kardashian West, but her collections are more than just a feast for the eyes. Hailing from India, Dongre is committed to reviving and sustaining the country's craftsmanship and authentic textile techniques through lines of bespoke bridal, couture and the latest Grassroot label in particular. The Mumbai-born designer employs female artisans all over India for the eco-conscious collection to contribute their skills in lieu of outsourcing to factories—which means women are empowered with opportunities, less waste is produced and India's craftsmanship is preserved.
India's rich culture and heritage are apparent in Dongre's handmade designs via vibrant colors and intricate patterns that immediately read as one-of-a-kind, organic and influenced by nature from the river to the mountains. We caught up with the design veteran (in the business for more than 20 years) to chat on how she's bringing India to the forefront of the fashion industry in ways that are socially and environmentally conscious.
Kate Middleton In Anita Dongre
On India's Long History In Craftsmanship
"India is a diverse country with a different cultural legacy every few kilometers. The diversity is obvious when you realize there are 720 dialects spoken of 22 recognized languages. Craft is similarly diverse in India with every region adding its own unique nuance and technique. These craft secrets are passed down from father to son or mother to daughter across generations, with each master craftsperson adding to this rich legacy."
How She Modernizes Traditional Designs
"As a designer born and brought up in India, I take inspiration from these traditional crafts and the people who practice them but there is a burning need to contemporize them. I make a conscious choice to use our traditional crafts and marry them with timeless design to reinvent classics. This studied approach to design, influenced by the rich embroidery and weaving techniques of this country, allows me to reinvent the classics without taking away from the tradition of each craft. I believe every wardrobe requires at least one craft piece as these only get better with time and so it is important for every handcrafted piece to be relevant and classic."
On India's Recognition In The Fashion Industry
"India is a country made up of diverse cultures where each family holds craft traditions dating back hundreds of years. While a handful of crafts have been recognized by the international fashion industry, this is merely the tip of the iceberg. Our rich legacy needs more recognition as India is amongst the few countries in the world where industrialization has not wiped out handcrafts. We continue to have a rich legacy of textile crafts holding a wealth of artisanal legacy. This work requires global recognition and a market to thrive."
The Unique Techniques She Uses To Create Her Collection
"Gota Patti is a traditional embroidery technique from the desert state Rajasthan that has inspired me for many years. Gota Patti, is made by cutting small pieces of zari (gold or silver cloth) and embroidering it onto fabric in intricate patterns. Another favorite is an Indian tie and dye method called Bandhani. In this technique small knots are tied (often a million on each piece of fabric!) in a pre-decided pattern by the women of the house. The men then dye this fabric using traditional dyeing techniques. Once dry, the knots are untied to reveal a kaleidoscope of patterns with no two pieces ever looking the same."
Her Favorite Weave Work
"My most favorite weave to work with is from the riverside town of Varanasi. The Banaras weave is breathtaking for its details woven on the loom. This weave requires years of practice because of the intricacy that it demands. Weavers can take up to six months to weave six yards of fabric depending on the detail designed. I could go on. With the number of craftspeople we have the privilege of access to, there is no dearth of weaves, embellishment or dyeing techniques I can experiment with."
On Empowering Women
"As a woman in the '80s, I wanted to start a business because I wasn't taken very seriously. I come from a traditional Indian family where every step towards realizing my dream was met with a battle – whether it was setting up the business in my bedroom balcony, scaling it up or convincing a mall promoter for space to open my first store. It was a time when women were just about beginning to have aspirations outside the home in India. The fashion world at that point did not reflect this breakaway from so-called societal norms. My muse since then has been this woman of her times who has constantly evolved to find greater strength in her voice, a woman who leads change to shape the world into what she wants it to be."
Shop The Styles
Hand Embroidered Midi Dresss, $490
Hand Embroidered Chikankari Playsuit, $410
Block Printed Overlap Jacket, $285Block Printed Asymmetric Top, $165 Handwoven Shorts, $85
Hand Embroidered Bell Sleeve Top, $205
Hand Embroidered Shift Dress, $350
Hand Embroidered Wrap Dress, $530Hand Embroidered Strappy Dress, $410