Gabrielle Union's Biggest Wellness Secret Costs Absolutely Nothing
Dimitrios Kambouris/Getty Images Entertainment/Getty Images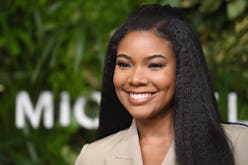 There's one celebrity in particular who absolutely embodies health, both mentally and physically. The legendary Bring It On actor might not be the first person to come to mind, but that's because she maintains just enough distance from the Hollywood scene to keep things under control. Gabrielle Union's wellness secrets are to thank for her impeccably balanced lifestyle.
Mere days after the birth of her daughter, Kaavia James Union Wade, this big-screen veteran sat down with Women's Health at a low-key Sherman Oaks beer joint to talk about what keeps her healthy (and it isn't the garlic parmesan fries and chicken wings she was eating ... or is it?).
In the cover story of the magazine's March issue, the 46-year-old admitted that wellness takes work, even for someone like her. But unlike other celebrities who dish out thousands to try the latest over-the-top health trends, Union prefers to keep it simple with self-care podcasts, plenty of reading, and a regular old walk in the park.
These are a few of the things she relies on to keep her looking and feeling fresh around the clock (even with a newborn), and the best part: they're pretty much free.
Fresh Air & Vitamin D
You've probably seen photos of Union soaking up the sun near her Miami home (where her husband, Dwayne Wade, plays for the Miami Heat). She told Women's Health that fresh air and vitamin D are the keys to her health and happiness.
"Give me a trail, a park, a walk down the street with the dogs, a breeze, rain," she said. "I'll go hike. I'll get a lawn chair and sit outside my trailer so I'm not trapped inside."
Early Morning Workouts
It should come as no surprise that Union loves a sweat session. She did specify, though, that although she would rather sleep in, she forces herself to get to the gym early. When the alarm goes off, she said she asks herself: "How much would it cost if I cancel?" "What does traffic look like?" and "Should I go back to sleep?" Ultimately, she gets up and pours herself a cold-brew because she doesn't like to leave people hanging (not even her trainer).
Plenty Of Water
Forget the standard eight glasses. Union revealed that, at least when she's on set, she drinks a whole gallon of water (that's double the suggested amount) per day. Eating healthy was a habit she started practicing during her IVF treatments (in the end, she and Wade ended up going with a surrogate after a series of miscarriages), but now that her IVF experience is over, she lets herself occasionally eat whatever she wants without thinking about it (like wings and beer — case in point). Guzzling water, however, is a non-negotiable daily ritual.
Quiet Time
Union puts just as much work into her mental wellness as she does her physical health, and one thing she refuses to compromise on is time for silence, although it might be quite difficult now with a new baby in the house. Reading and listening to her favorite podcasts are a huge component of the actor's self-care routine. When choosing a surrogate, Union said she even prioritized someone who frequently reads over someone who eats super healthy.