Fresh Beauty's Newest Lip Treatment Shade Is The Classic Color Your Makeup Bag Needs
Fresh Beauty/Instagram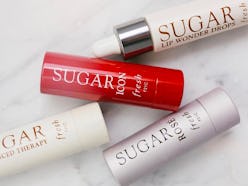 As far as holiday beauty looks go, nothing is more quintessential than a cheery and bright red lip. But, the reality of rocking a ruby red lipstick can be a bit high maintenance. Prepping and hydrating your pout so color glides on smoothly, applying the shade in one even sweep, and keeping lips comfortable (and cute) all night long is easier said than done — and typically unachievable with one single product. But Fresh Beauty's new Sugar Icon Lip Treatment could change that once and for all, by giving you the actually wearable rich wash of red you've been looking for. Just in time for the holidays, too.
Rifle through just about any makeup case, work tote, gym bag, purse, or really any other receptacle in which you might find a lip product, and there's a pretty large chance you'll find one of Fresh Beauty's Sugar Lip Treatments. It's available in multiple formulations and several tints (over ten, and counting), it's got SPF 15 to provide UV protection, and it actually helps lips stay hydrated in the face of even harsh weather conditions. That's why the product's got a 4.7 star rating and over 1,000 gleaming reviews on the brand's site (and a whopping 280,000 "loves" over at Sephora).
But what the product didn't have was a classic true-red hue. So, Fresh Beauty co-founder Alina Roytberg got to work on developing one that would work with all skin tones — no easy feat for crimson-toned lip colors.
"With Sugar Icon, I challenged myself to create an 'every woman's red lip.' This flattering shade is a classic red that's true to you, shifting from a deep scarlet to a rich warm red depending on the complexion of the wearer," Roytberg said in the new shade's press release.
The $24 lip product, now available on the brand's site and at Sephora, packs all the same hydration-rich superpowers of its predecessors like humectant sugar and softening natural oils (including grapeseed and black currant seed), plus SPF 15. And just like the rest of the tinted range, it provides a wash of translucent, buildable color that's bold but wearable.
Based on the above, Sugar Icon is a much more functional take on a holiday red lip — you'll get the long-lasting moisture your lips crave and the statement look you're after for the season's party circuit, in a comfortable, lightweight formula that wears more naturally than a matte lipstick.
Shop the fresh new Sugar Icon shade, below.