The Non-Cliché Way To Do Paris (That Doesn't Include The Eiffel Tower)
Shutterstock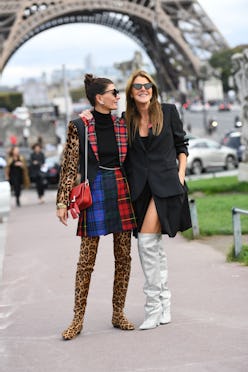 There are cities in the world so epic, that one needs at least a week to fully (or partially) grasp it: New York City, London, Los Angeles, Tokyo, Paris. And while all of these places hold their own unique caché, no one can resist the charm and magnetic pull of the latter on the list. Between the shopping, food, sites, and general je ne sai quoi, it may seem virtually impossible to figure out how to see Paris in just a few days. But with getaway flights to Europe hitting incredibly affordable price points, you can make a quick romp in the city of lights happen.
As a seasoned traveler and founder of travel site Just A Pack, Randi Delano is a frequenter of Paris. (In fact, she's written guides on how to maximize a Parisian vacay.) And while the jet-setter recommends at least a week to fully immerse oneself in all that Paris has to offer, she says three days can be ample time to live like a true Parisian. You just have to know where to go. "In general, I think a lot of travelers get consumed with the idea of hitting all the major sites a city has to offer, rather than taking some time to try and experience local life," says Delano.
Teddy Minford, editor for Fodor's Travel, says she's a personal fan of quick European trips as they allow you "to splurge more with your budget, indulging in fancy dinners and maybe even a little bit of shopping. Paris is actually a surprisingly affordable city in terms of eating and drinking, but it's still a bummer to visit on a tight budget."
So how exactly does one experience a full dose of Parisian magic in just a few days? Ahead, check out Delano's and Minford's tips for making the most of a quick French getaway.
Skip High-Traffic Sites
If you've only got a few days to work with and don't have your heart set on the typical tourist experience, there are few sites you might want to leave off your itinerary, according to the travel pros. For one: the Eiffel Tower. "If you're really short on time I'd suggest skipping it entirely and just enjoying views of it from the river," says Delano. "If you've always dreamed of visiting it, however, you should definitely book your entry tickets in advance online or just head there and enjoy views of it from the park below."
Another hotspot you might consider saving for a longer trip would be the Louvre. "Yes, it's one of the world's finest art institutions, but it's a stressful and crowded experience," says Minford. "The museum is so big that it's overwhelming, even if you plan on spending a few hours there. If you're in Paris for longer than a week or so, you can go ahead and devote a full day to exploring the Louvre. But if you happen to be nearby, stop by to admire the building and grounds, including the iconic glass pyramid."
Opt For Lesser-Known Gems
Although a quick trip to the city of lights might prompt you to prioritize sites like the Eiffel Tower and The Louvre, in reality, your time might be better spent in lesser-known neighborhoods rich in authentic Parisian charm. Here are a few to add to your itinerary:
Le Marais
"My favorite at the moment is Le Marais," says Delano. "[...] Le Marais is home to the oldest covered market in Paris, Marché des Enfants Rouges, which dates back to the 1600s. It's a great place to experience what local life in Paris is like, grab some French produce, or have lunch at one of the many restaurants serving local and international cuisine."
Jardin de Luxembourg
"This is one of the best places in the city to picnic while sitting on a bench, baguette in hand, and people watching," says Minford. "The manicured gardens are spectacular and the surrounding neighborhood is one of the most beautiful in the city."
Canal Saint-Martin
"Because there aren't too many big sites there, people tend to miss out on Canal Saint-Martin," says Minford. "The neighborhood is very hip, a little bit gritty, and full of cool bars and cafes like Comptoir Général. Also, my favorite croissant in Paris is there at Du Pain et des Idées."
Sainte-Chapelle
"There's this church called Sainte-Chapelle that's famous for its beautiful stained glass windows and the church hosts classical music concerts on weekend evenings," says Minford. "It's stunning."
Museums (That Aren't The Louvre)
"Paris is a city of museums and some of the best museums in the city are the smaller or under-the-radar places devoted to quirky ideas or a single artist," says Minford. "If you're into art and design, visit the Musée national Gustave Moreau, the Rodin sculpture garden, and the Musée Nissim de Camondo. For something a bit odder, the Musée de la Chasse et de la Nature is a museum dedicated mostly to taxidermy. (It's supposedly Wes Anderon's favorite museum in Paris, and if that's not enough to convince you, it's only about $5 to get in and always empty.)"
The Catacombs of Paris
"The catacombs are both insanely creepy and insanely fascinating," says Minford. "It's something you really have to see to believe."
Book Ahead
If you do decide to swing by a city hotspot that's known for lots of foot traffic, some smart planning can help you save time. "To avoid waiting in line for some of the most popular sites, like The Louvre or Eiffel Tower, be sure to book your entry in advance online," says Delano. "It will save you a lot of time."
Indulge In Authentic French Fare
"Probably the most important thing you need to do while you're in Paris is eat," says Minford. "There's no better place in the world for breads, pastries, and desserts of all kinds. Even a mediocre croissant in Paris is still incredible. Indulge in everything (Cheese! Wine! Pommes frites! Crepes!) and walk it off."
Delano seconds this notion, stressing the importance of indulging in yummy baked goods ad nauseum. "You can't leave Paris without visiting a traditional bakery for French baguettes and pastries," she says. "They're seemingly on every corner. Just pick one that looks good. You'll walk away happy!"
Pick Quick & Efficient Transportation
When you're on a quick trip, time is of the essence, so the last thing you want to do is sit around waiting for cabs to get you around a tourist-filled city like Paris. "To get around the city quickly, either rent a bike or e-bike, or take the metro," says Delano. "Paris has a Vélib' bike — a public bike-sharing program — stations are all around the city. You can rent up to five bikes or e-bikes for as little as five Euros a day with the Vélib' app. Alternatively, the Paris metro system is pretty amazing. It's efficient, relatively inexpensive, and gets you to where you need to be quickly."