Beyoncé May Have Just Predicted The Next Big Hair Trend
ETIENNE LAURENT/EPA-EFE/Shutterstock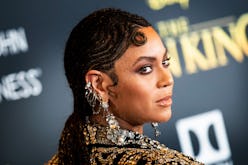 When I was in journalism school, a noted editor gave me a pretty handy rule of thumb: Always look at what Michelle Obama is wearing to see what's trending in fashion (she's arguably one of the reasons why Prabal Gurung and Thakoon are on the map now). I opt for that same method with Beyoncé and beauty, and it's almost never failed me (who else could convince the world to wear gray lipstick?). At the July 2019 Lion King premiere in Los Angeles, Bey wore finger wave cornrows done by celeb hairstylist Kim Kimble — and I have a strong feeling that the world will see plenty more of them in the coming months.
Not that this is a brand new style: Cornrow hair designs are still super popular (just look at the name braids at Alexander Wang Resort 2019, for example). But these particular braids, which were also spotted on Amandla Stenberg at 2019 Oscars, feel formal enough to go with red carpet finery.
"Social media has created a platform to showcase diversity in braiding," Vernon François, who styled Stenberg's braids, tells The Zoe Report. "Everywhere you look, there's inspiration of some kind. Creating a 1920s finger waves with braids for one of Hollywood's most talked about red carpet normalizes the versatility with the Afro hair texture, therefore creating opportunity to show case more innovations." And François, who also works with stars like Lupita Nyong'o and Serena Williams, also used the opportunity for increasing representation: Amandla wanted the 1920s classic look with her natural curly hair texture, but he says that it proved to be extremely difficult to find anything online that represented the natural curl texture in its most authentic state — so he designed his own.
And even though Beyoncé's braids were inspired by the decades past, she felt like there was no time like the present to try her 2019 iteration. "This was something that we were both looking at and wanted to do," Kimble, who also works with Zendaya, reveals. "So this seemed like the perfect opportunity to do it. The whole inspiration was taking finger waves and making them edgy. It was a sort of a cool, interesting, and new take on the classic style. You know everyone has been wearing braids, so it was a cool to give them something different."
In terms of technique, Kimble notes that it's all about the parting. "You have to really take your time, and parting is important to get the right curves in the hair. The pin curls add a nice little touch to it, and makes it feel more wavy... very roaring 20s," she says. And well moisturized hair is also pivotal: François used his own Mist~Nourishing Water to make his client's hair more pliable, and then finished off with off with his Braid and Locs Scalp Nourish~ment Spray, a "blend of premium oils to nourish the scalp for moisturized and non-greasy relief from dryness and irritation," he describes. Anyone who's had their hair braided knows that the tension from the process can cause a little discomfort, so oil is ideal. Since your edges will be on full display, a little bit of gel or edge control is ideal to slick your baby hairs down. Kimble used her Baby Hair Pomade to maintain Beyoncé's cowlicks all night long.
As for maintaining them at night, François suggests using a silk scarf to wrap and secure the look, as it will help to retain moisture and stop the hair from breaking. The process itself takes around two to three hours, Kimble says, and you don't necessarily have to use braiding hair — since Beyoncé's natural hair is so long, Kimble didn't need extensions.
Shop some of the exact products that both stylists used ahead, and live your best Daisy Buchanan life.