Fenty Beauty's New Launch Is A Genius Solution For Too Many Eyeshadow Palettes In Your Makeup Bag
Courtesy of Fenty Beauty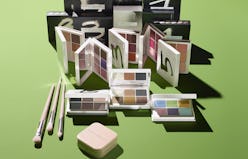 Ever spent more than a reasonable amount of time digging through your makeup bag or overflowing beauty drawer, sifting through seemingly endless eyeshadow palettes just to find the few shades you need? It's a problem any self-proclaimed beauty obsessive is basically destined to deal with, until you finally decide to do a clean sweep and start fresh. And that's where Fenty Beauty's new Snap Shadows Mix & Match Eyeshadow Palettes will really come in handy. Ready to kick off 2020 with a clear line of sight on your makeup shelf? Look no further.
Rihanna and her team at Fenty Beauty have basically become trailblazers of the industry — from redefining inclusivity standards with diverse foundation and color cosmetic shades to developing long-wear formulas that can withstand even the multi-hyphenate superstar's nonstop days. And the brand's newest launch takes its innovation a step further, with genius packaging that makes it easier than ever to take your favorite eyeshadow with you and streamline your makeup bag in the process.
Fenty Beauty's Snap Shadows Mix & Match Eyeshadow Palettes, $25 each, are landing on the brand's site and at Sephora on Dec. 26 just in time to refresh your collection ahead of the new year. The six-pan palettes will drop in eight different shade collections, which can be used alone or effortlessly paired with a snap of your fingers (seriously, they snap together to create your own custom portable shadow collection).
The first-of-their-kind shadow kits range from neutrals in warm tones, cool hues, and true nudes to bolder selections like a camouflage-inspired palette (number 7) and a frosty pastel pick (palette 8), and vary in finish from matte to multidimensional shimmer. Try selecting one for daytime and one for nights out, so you're never without a versatile vibe for every occasion. No more digging to find your favorite shades when they're all together in one spot.
Fenty Beauty's fresh eyeshadow launch will be accompanied by three new brushes for applying, blending, and defining, plus another genius launch — a Dry Brush Cleaning Sponge, $18, that removes remnants of shadow from your brushes when you switch colors for flawless application. It's compact and mess-free, and you'll soon wonder how you ever lived without it.
Check out the forthcoming arrivals from Fenty Beauty below, and scoop them up on Dec. 26 for a fresh, smart start to the new year.