Fenty Beauty Wants To Upgrade Your Eyeliner Collection With 20 Brand-New Shades
Courtesy of Fenty Beauty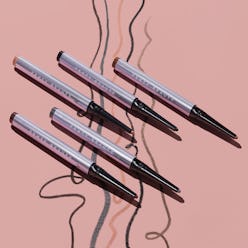 Love a bold beauty look, but can't get behind the time it takes to go all-out? There's only so many hours in the day, and safe to say many of us would rather not spend precious minutes staring into the bathroom mirror trying to master an eye-defining cut crease. The speedier solution? A quick slick of eyeliner in a bold shade that's bound to turn heads. And lucky for you, Fenty Beauty's new Flypencil Longwear Eyeliner is about to drop with not one, not five, not ten — but a whopping 20 intense colors (and four high-impact finishes). Your statement-making makeup routine is about to get fast-tracked.
Clearly, discussions over at Fenty Beauty these days have been all about the eyes. Hot on the heels of announcing its first-ever mascara launch, Rihanna's crowd-fave beauty brand decided to drop something else that'll help your eyes do all the talking: a pencil eyeliner, another first for the range. And you won't have to wait long, because it'll be available to shop on Jan. 16 (aka the same day that the mascara hits Fenty's site and Sephora stores). Make some room in your makeup bag now, because these upgrades are coming in hot.
The mascara — like Fenty Beauty's previously launched liquid eyeliner — will be up for grabs in just one hue, a true-black Rihanna has dubbed "Cuz I'm Black". But Flypencil Longwear Eyeliner, on the other hand, is landing in a bigger way with 20 longwear colors. The $22 eyeliner, which is water-resistant and creamy enough to ensure a smooth, tug-free application, also features four finishes: matte, metallic, shimmer, and glitter. No matter the shade you pick, the pigment payoff promises to be intense.
"This pencil glides on so smoothly, I can't believe how much color I get in one stroke. I love that I can put it on once and go all day — it doesn't budge!" Rihanna gushes on Fenty Beauty's Flypencil product page. Well, if it's good enough for Rih, right?
The range naturally includes the brand's jet-black shade in a matte finish (every makeup bag needs a reliable black liner, after all), but from there the colors are anything but basic. "Space Cookie" is a dark chocolate brown amped up with gold glitter, "Bank Tank" is a chic matte army green, "Grillz" gives you a night out-ready metallic gold, and "Moon Dunez" is an unexpected shimmery lavender-gray. You can even line your lids in bright bubblegum pink with "Cute Ting".
Like the liquid Flyliner, Fenty Beauty's Flypencil features a triangular shaped tube for easy handling and application, and the precise tip twists up to reveal more product — no sharpener needed. Plus, the formula is ideal for both bold, graphic lines and smudged-out smoky looks, so you can play with the shades however you please. Try this 2020 eyeliner trend first, perhaps?
Below sneak a peek at several of the new launches' most versatile and playful colors, and head over to Fenty Beauty's site to peep all 20 ahead of Jan. 16.