This Is Exactly When You'll Be Able To Shop Fenty Beauty's First-Ever Mascara
Courtesy of Fenty Beauty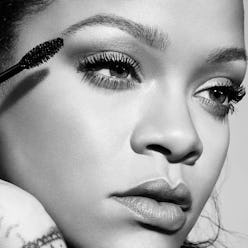 The last piece of the puzzle is here. Although it feels like Fenty Beauty has come out with every beauty product imaginable — from 40 foundation shades to stunning lipsticks to a body luminizer everyone needed — the brand is launching its first-ever mascara. The new Fenty Beauty Full Frontal Volume, Lift & Curl Mascara will finally complete your full Fenty face (when it comes to makeup, at least).
The mascara, $24, drops Jan. 16 and, as Fenty Beauty noted multiple times on its Instagram posts announcing the launch, the true-to-its-name mascara "instantly volumizes, lifts, lengthens, and curls." It also features a dual-sided brush with one "fat" side and one that's "flat." Why? Each has its own purpose: The former helps pack on the product and lift your lashes, while the latter defines and curls.
As for how to actually use the brush to its full effect, a press release from the brand included a few tips. "For max volume, make sure the FAT side of the brush is fully loaded. Layer until you reach your desired effect," read an artistry pro tip. "For max curl, use the FLAT side of the brush to push up lashes while coating them from root to tip," the press release continued.
In addition to its volumizing and lengthening powers, the mascara is water-resistant, sweat-resistant, and long-wearing, meaning it's probably prepared to last through your entire day with you (no matter what it entails). As for which shades are available, right now, the new product only comes in a true black with a title Fenty Beauty fans will probably recognize: "Cuz I'm Black," the name of the brand's only Flyliner shade.
Though it makes sense as the next step in the fashion and beauty mogul's makeup line, the mascara did come as somewhat of a surprise to fans. On Jan. 6, Rihanna posted a bare-faced selfie to Instagram to ring in the New Year, and due to her shining complexion — with one pimple — it left everyone guessing that a Fenty Beauty skincare line was soon to launch. (Rihanna is known for secretly debuting products long before they hit the market, after all). But while sadly, no skincare line has been confirmed as of yet (though Page Six did report in April 2019 that "Fenty Skin" was listed as a trademark), the launch of the brand's first mascara certainly isn't a bad alternative.
You'll be able to snag Full Frontal on the brand's website, Sephora.com, in Sephora stores, and at Sephora in J.C. Penney. Time to set your alarm for Jan. 16.