All The SAG Awards Beauty Looks You Can't Afford To Miss
Gregg DeGuire/Getty Images Entertainment/Getty Images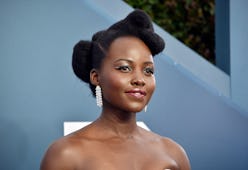 Last year, the Screen Actors Guild Awards ushered hair ribbons and Lucy Boynton's experimental eyeliner into the spotlight. Awards season seems to have that sort of effect on things, so what beauty looks will the SAG Awards bring to 2020?
Red carpets and catwalks are, in some ways, one in the same. Awards season has about as much influence on future trends as New York Fashion Week, at least for the beauty industry. A year ago, it was all about the hair accessories — bows, statement barrettes, and headbands — whereas this season seems to be favoring glittery eyeshadow (thanks again, Lucy Boynton) and old Hollywood glam.
Colorful eyeliner, strikingly bold lips, and even Little Women-inspired braids have all made notable appearances on 2020's red carpets so far. Now, the SAG Awards is solidifying all of the above, as well as introducing some curveballs of its own.
Red pouts proved to be as stylish as ever while topknots made an unexpected appearance. From Nathalie Emmanuel's natural curls to Sophie Turner's spiky lashes, these SAG Awards hair and makeup trends are destined to crop up in your own beauty routine eventually, so it's best you get a head start on them, below.