Your In-Flight Skincare Routine Just Got Upgraded Thanks To Erno Laszlo's New Eye Cream
Erno Laszlo/Instagram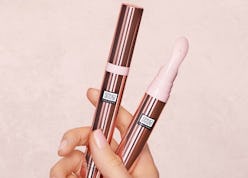 The few (or more like several) minutes you spend in front of the mirror each morning and night should be considered sacred. It's the time you get to dedicate to your skin and beauty routine to help you ensure you feel and look your best — a very literal, not to mention essential, part of self-care. The problem is that sometimes life gets so busy that you may have to sacrifice those precious beauty moments, which forces you to take your regime on the go. Luckily, Erno Laszlo's new Multi-Task Eye Gel Cream does the work of both a serum and a cream to streamline your step-by-step skin treatments, with an ingenious and effortless applicator to boot. You won't want to go anywhere without this one-and-done wonder.
If there's any brand out there that understands the importance of a tried and true beauty ritual, it's Erno Laszlo. The Budapest-born skin-perfecting line has been around since 1927 and counts Katherine Hepburn and Greta Garbo as some of its earliest U.S. clients, so yeah, it's safe to say it maintains high, Hollywood-approved standards. But Erno Laszlo also understands that these days, a modern skin care regime needs to flex with incredibly hectic schedules. Thus, the creation of its latest multi-tasking, super-charged eye treatment.
The brand-new Multi-Task Eye Gel Cream, $65, makes it easier than ever to get wide-awake, revitalized eyes that actually look younger — no matter how busy you are or where you're headed. The hybrid formula eye treatment combines all the supercharged power of a serum with the conditioning hydration of a rich eye cream, for a gel-cream texture that melts into skin with minimal effort (ideal for an on-the-go lifestyle). Plus, Erno Laszlo packaged the unique eye treatment in a genius pen-like applicator with a curved tip that expertly contours your face for no-fuss application anytime, anywhere.
Inside the gel cream you'll find powerful botanical and nature-derived extracts like blue-green algae extract that's rich amino and fatty acids, vitamins A, C, E, and K plus minerals including calcium, potassium, and zinc, all of which work hard to prevent free-radical damage, improve skin elasticity and tone, and increase collagen for a more plumped, youthful appearance. Apple extract brings a brightening effect for a reduction in dark circles and a more wide-awake look, while peptides and more plant extracts increase hydration and cut down on puffiness and under eye bags. Long story short, this cocktail will keep you looking fresh (even if you're feeling worn down).
Use a pump of the Multi-Task Eye Gel Cream morning and night, whether you're in front of your bathroom mirror or hopping onto a cross-country flight — either way the no-mess applicator makes it a breeze to get brighter eyes. Grab your own from Erno Laszlo's site, below.