The Unexpected (& Luxe) Ingredients Tatcha's New Eye Cream Relies On To Hydrate & Brighten
Courtesy of Tatcha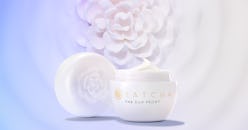 It looks like the popular J-beauty brand Tatcha may have yet another best-seller on its hands. Launched online Aug. 1 — and arriving in-store at Sephora on Aug. 15 — Tatcha's new Silk Peony Melting Eye Cream complements the brand's previous suite of top-rated, cult-favorite products. And it seems to be exactly what shoppers were looking for, judging from the fact it's already won a 4.8-star rating on Tatcha's website from more than 250 reviews.
Read more: The 13 Best Dermatologist-Recommended Eye Creams In 2021
Chalk it up to the fact that it delivers all the promises of a typical eye cream in a clever new way. Retailing for $60 per .5-ounce jar, the Silk Peony Melting Eye Cream moisturizes, brightens, and smooths the area around your eye — standard protocol when it comes to an eye-area product. However, the texture of Tatcha's new eye cream is the key difference: The balm is formulated to melt into your skin the moment you apply it. This means you can smooth on a layer before bed or a morning makeup routine without worrying about the product pilling up.
That's not to say that the ingredients aren't extraordinary as well, though. Much like Tatcha's best-selling Silk Canvas primer, the Silk Peony eye cream uses silk extract to achieve a smooth, lit-from-within glow. Unlike the primer's extract, though — which is formulated to, well, prime your skin — Silk Peony uses the silk-sourced proteins sericin and fibroin to create a "protective veil of moisture," according to the product description. (It also notes that the eye cream does blur any lines around your eyes, as well, just in case you do miss the primer's smoothing power.)
Moreover, the Silk Peony eye cream is formulated with a Japanese white peony extract, which assists in strengthening the delicate skin barrier found in the eye area. The brand also included its Hadasei-3 complex, a game-changing and antioxidant-packed hydrator sourced from Japanese superfoods — and found in many of the brand's best-sellers, like Tatcha's Water Cream or The Essence skin softener.
Find your own jar of Tatcha's new Silk Peony Melting Eye Cream by visiting the brand's website, or by clicking over to Sephora — where the eye cream has already garnered a nearly perfect rating from the beauty retailer's online community, by the way. Below, The Silk Peony Melting Eye Cream, available on Tatcha.com.