My Mom And I Traded Skincare Routines For A Week—Here's What Happened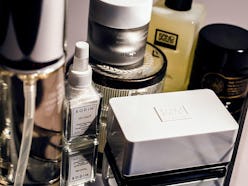 Allow me to introduce you to my best friend Connie, who also happens to be my beautiful mother. My mom and I, while technically of the same DNA, have very different skin types and skincare goals. As unique as we can be, I thought we could learn a lot from trading beauty routines for a week. Mom always knows best, or so the saying goes, but I have a few tricks up my sleeve, too. Here's what we learned from our swap.
Connie's Skin Type
"Unlike my daughter, I never get oily—I have normal to dry skin. Winter is the worst for me, as I get dry patches, especially on my forehead. At 53, I have age-appropriate goals for my skin: I want to tighten and firm it (I've noticed sagging around my chin, and my laugh lines have gotten more prominent in the last five years), eliminate wrinkles (crow's-feet are my problem area) and remove sun spots.
My regimen consists of a good cleanser and a makeup remover. I wear a full face every day, so I'm very diligent about taking it all off at night. I was first introduced to Erno Laszlo when I visited the brand's skin institute in New York, and I've been a fan ever since. I use the cleansing duo daily (trading off between the hydrating and detoxifying sets as needed) and the White Marble line is a go-to for me, because it focuses on reversing sun damage. Lastly, the Lancôme sleep mask is one of my favorites—I apply it religiously at night, and sometimes when I wake up early on a weekend, I'll slather it on my face and go back to bed."
Stephanie's Skin Type
There are two things you should know about my skin and routine: I'm a grease ball and a product junkie—if you've followed my stories over the years, you know that already. My T-zone gets super oily and the rest of my face is normal, so I focus on reducing oil production in one area and hydrating everywhere else. I just turned 27, so anti-aging is on the brain—I haven't introduced hard-hitting ingredients like retinoids yet, but I exfoliate like crazy to help promote cell turnover to keep my skin looking younger longer.
In recent months, I've cut down on the triple-cleanse because it can be controversial. Some people swear by it, but I've been told by multiple facialists that it can overload your skin and make it produce even more oil. I've limited myself to a single cleanser that exfoliates, then an oil-based remover for my eye makeup. I'm obsessed with toner and serum, so I use them immediately after washing my face. To keep my skin hydrated, I use a lightweight moisturizer and spritz my face with a hydrating mist a few times a day. I recently added a light eye cream (baby steps to stopping wrinkles before they start). Finally, a couple times each week, I use my favorite peel by Skin Inc. to slough off dead skin and even out my complexion. I love that it's so gentle but really makes my skin glow every time I use it.
The Switch
My mom is the most selfless, giving person I know, but when it's time to start our experiment, I have to pry her beloved skincare products from her hands. She makes me promise I'll give them back and looks genuinely sad to see them go. When I bust out my bag of tricks, she actually gasps out loud. In shock, she blurts, "I have to put all of that on my face?" Terrified the abundance of products will make her break out, she reluctantly agrees to my challenge. I walk her through every step and watch as she tries to soak it all in.
The next day, she calls and admits that my eight-step routine is much less time-consuming than she thought. She immediately raves about the Kate Somerville ExfoliKate Cleanser: "I love how it lathers, and the smell makes me feel like I'm at a spa." (See, sometimes daughters know a thing or two!)
Next, it's my turn, and I'm so happy to have a multi-step cleansing routine back (thanks, Mom!). I start with the oil cleanser, then detox with the charcoal bar and it's like I'm my old self again. Once I apply the moisturizer, my skin feels amazing and super hydrated. Sadly, as the morning goes on, I notice significant pilling. I usually allow a one-hour window between my skincare and makeup routines, and by the time I apply the foundation, there's already buildup on my face. I try my best to get the product off while driving (eek!), but I have to go about my day with my skin looking like it's peeling. I decide to continue with my mom's routine—but to proceed with caution.
Connie's Final Thoughts
"After a week using my daughter's products, my skin feels much more hydrated and moisturized. I have a couple new favorites I'm thinking of keeping (Stephanie has enough stuff anyway). I love the Kate Somerville cleanser—I can't wait to incorporate that into my daily routine. I was skeptical about the peel at first, but I'm planning to continue using it. I'm amazed by how it removes dead skin without feeling too abrasive. I have a dark area on the left side of my face, which I think is sun damage from the driver's side window of my car. At the end of the week it seems much lighter.
All in all, this was a positive experience. While I can't wait to get my hands on my Erno Laszlo White Marble products and my sleep mask, my skin feels less dry. Keeping up with Stephanie's strict instructions was difficult, but I eventually found my way. I admit I used the peel much more often than she advised, and I thought the eye cream was a second serum so I applied it to my entire face, but no harm done."
Stephanie's Final Thoughts
The biggest lesson I learned after a week of swapping routines with my mom is that I need to be more diligent about my evening regimen—my mom is really good at it. (I just get super lazy and fall asleep with my makeup on.) After seven days, my skin looks less tired and more toned. I'm determined to make this a nightly habit.
The only product that didn't work for me was her moisturizer. Keeping in mind she has dry skin and I have normal-oily, it was a little too heavy and just wouldn't absorb. I think that's why my skin completely rejected it, making it pill like fuzz on a sweater. The overarching lesson here is to keep an open mind and try new products—but ultimately, only you can decide what works for your skin.
Homepage image: @violetgrey