EmRata Found The $70 Biker Shorts You're Going To Live In This Summer
Dimitrios Kambouris/Getty Images Entertainment/Getty Images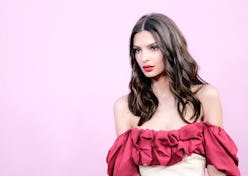 The compression shorts that once would have gotten you major glares for wearing outside of SoulCycle are turning out to be the athleisure trend of 2019 and nobody's happier about it than EmRata. You might be against the craze now, but when the day comes when it's too hot for leggings, you'll wish you had a pair, too. Consider Emily Ratajkowski's bike shorts the solution to all your off-duty outfit woes.
While the rest of her model troop is at Pitti Uomo in Florence, Italy, Ratajkowski pretty much has a monopoly on the street style scene in New York. She's been walking that new puppy, Columbo, on the daily (no doubt using him as an excuse to show off some of her world-class wardrobe).
Lately, she's been sticking to a particular formula and it seems to be fully fail-proof, so listen closely. All you need is a cropped sweatshirt, bike shorts, and your best pair of white sneaks to recreate this look.
On Weds., her daily walk consisted of a white graphic crewneck with tiny black lettering that read Aimé Leon Dore, the Queens-based streetwear brand whose name was also written along the waistband of her long, black biker shorts.
The following day, she wore the shorts again, this time with a highlighter-orange Cotton Citizen pullover, a white ballcap, and another pair of sneakers. Go ahead and consider your summer aesthetic sorted.
These $70 Aimé Leon Dore bike shorts are also available in navy and bright orange, but basic black is EmRata's color of choice. Her latest off-duty looks are proof of their versatility, so don't be afraid to get creative with your combinations (Rosie Huntington-Whiteley, for instance, paired hers with an oversized beige blazer and it was outrageously chic).
All of the sudden, biker shorts are a fashion statement. Ease into the trend with Ratajkowski's (and a few similar alternatives), ahead.
Shop The Look