Emilia Clarke Showed Up To The Oscars With A Chic New Hair Color
Vivien Killilea/Getty Images Entertainment/Getty Images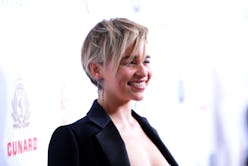 When Emilia Clarke touched down in Los Angeles on Thurs., she was blonde. Now just a few days later, the Game of Thrones actor's signature bob is a dreamy shade of brunette. Emilia Clarke's hair at the 2019 Oscars is the perfect color for a mid-winter makeover.
This British actor's in-real-life look is much different from the long, icy-blonde waves you're used to seeing her with on screen. Clarke's off-duty hair is typically short and a more golden shade of blonde. She wore it tousled and tucked behind an ear when she traveled from London to Los Angeles on Thurs.
But the actor just showed up to the Oscars red carpet in a fresh chestnut hue. She didn't waste any time to show off her makeover, either, being among the first to arrive at the iconic Dolby Theatre on Sun. for the award show of the year.
Clarke opted for a sparkly lavender gown with a sleek, asymmetric neckline. The dazzling diamonds that adorned her bracelet, ring, and drop earrings caught the cameras' lights even more than the tiny sequins that covered her gown, too. Even with all that bling, the actor's most eye-catching accessory had to be her brand-new hair.
The Game of Thrones actor wore her usual chin-length bob straight, parted in the middle and tucked behind her ears. While it's typically a summery honey blonde, the big-time awards show called for a darker chocolaty shade perfect for Feb.
Clarke debuted the look even before she hit the red carpet. The actor showed off her look on Instagram first, posting a selfie in her Oscars gown with the caption, "blondes have more fun, eh??"
"We'll see about that this fine #Oscar2019 evening," she said. Clarke tagged hairstylist Jenny Cho — whose client roster includes Carey Mulligan, Amanda Seyfried, and Lucy Boynton — in the post.
Other celebrities like Madonna, Emma Roberts, and Emma Stone have gone to the dark side in 2019, too. Cate Blanchett — an iconic blonde, herself — actually debuted a similar shade of brunette on the red carpet of the BAFTAs mere weeks before Clarke's dye job.
There's no better time to switch up your look and this rich brown hue is obviously the perfect pick for a winter change.