Cate Blanchett Debuted A Shocking New Hair Color At The BAFTAs
John Phillips/Getty Images Entertainment/Getty Images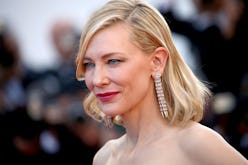 Cate Blanchett is one of those iconic blondes ... or, rather, was. The actor just debuted a big-time makeover on the BAFTAs red carpet that'll make you want to go to the dark side. Trust me: You won't be able to stop yourself from swooning over Cate Blanchett's brown hair.
All eyes were on this Ocean's Eight actor as she glided down the red carpet in a stunning Christopher Kane dress at Sun.'s awards show in London. More eye-catching than the dazzling multi-hued jewels that decorated the dress' neckline, however, was her hair color, a very different shade than what you're used to.
The Australian actor has long been known for her beachy golden-blonde hair, but Blanchett seemed to have traded in her classic honey hue for a chestnut brown ahead of her latest appearance at the Royal Albert Hall.
She made quite the entrance at the awards ceremony, showing off a black gown featuring high slits on the front and back (giving off a dreamy pants vibe as she walked) and a cutout neckline that featured chunky gemstones.
The 49-year-old's new mahogany dye job might take a while for you to get used to, but once you do, you might even forget that she wasn't a brunette all along. Blanchett was made for brown hair, and her latest look is proof.
You might have seen the actor with a similar color before if you watched the 2010 version of Robin Hood, in which Blanchett plays Marion Loxley. This look is obviously much sleeker than Loxley's long, old-timey waves, and unlike her past brunette moment (which was a wig), this time, it's permanent.
It's unclear whether Blanchett is gearing up for another role or was simply craving a transformation (who can't relate to that dreaded winter rut?). Either way, the brown hair is here to stay — at least temporarily — so soak it up while it lasts.
The always-elegant actor wore her lob in loose and bouncy curls during Sun.'s event, pulling one side back behind the ear. Her look was simple and timeless, showing that no matter what she wears or how she does her hair, Blanchett just cannot go wrong.