e.l.f. Cosmetics' Beautyscape Contest Is Happening Now & The Prize Is Every Beauty Lover's Dream
e.l.f. Cosmetics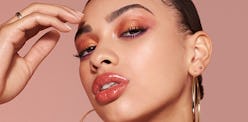 For many people, fall is a time of celebration. But for others, it just means one thing: Summer — with all its glorious sunshine and warm temperatures — is officially over. If you're in the latter category, it's likely you're already planning a vacation to a tropical destination to escape the cold weather as soon as possible. And should that be the case, you're in luck: e.l.f. Cosmetics' Beautyscape weekend is officially happening again. The contest to enter is live as of Sept. 21, meaning those who submit an entry have the chance to win a weekend in the Bahamas — and that's not all you'd get if you won, either.
For the brand's fourth annual Beautyscape weekend, the 25 finalists chosen will also get to compete for a chance to win a $10,000 cash prize (yes, really) and an opportunity to collaborate with e.l.f. on its summer 2020 collection — aka every beauty lover's dream.
And no, it's not difficult to enter. In fact, the beauty brand has broken it down in a three-step process on the contest registration page. Start by clicking the login on the page and registering. Once you've done that, e.l.f. directs those who wish to enter to create a colorful makeup look with a statement lip or eye, inspired, of course, by the Bahamas. "Tropical vibes only ;)," it notes.
Finally, you'll want to give the brand some love on social. Be sure to follow @elfcosmetics on Instagram, post your finished look, and tag @elfcosmetics, #beautyscape2019, and #elfcontest by Oct. 21. Then all that's left to do is wait (probably very impatiently) until around Oct. 31 to be notified if you're a finalist. (And in the meantime, be sure to read through the official rules to make sure you have all the details.)
While obviously this is a fantastic opportunity for the winners, e.l.f.'s Beautyscape contest benefits others, too. In fact, with every contest entry from now until Oct. 21 the brand will donate $1 to UNICEF USA for the Bahamas (up to $10,000). So even if you don't win, you'll know your time spent entering wasn't wasted.
Judging from 2018's Beautyscape trip to New Orleans, this one's sure to be an experience that's *actually* unforgettable. As if spending three nights in the Bahamas wasn't good enough (that's Nov. 14-17, 2019, by the way, in case you want to start planning now), finalists will have the chance to learn about what's trending in beauty, meet industry leaders, and, obviously, spend some time by the pool. If that's not enough to make your summer-loving friends jealous, nothing will. So, stop waiting and click here to enter now.