What Goes Around Comes Around Is Launching A Capsule Of Designer Pieces On eBay — & It's Not Going To Last Long
What Goes Around Comes Around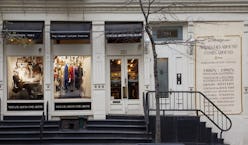 When one of the world's biggest online marketplaces and one of the most beloved designer resale shops join forces, the results are bound to be fantastic. So the news of eBay's What Goes Around Comes Around collab is reason to celebrate, because it means some seriously covetable designer pieces are about to be up for grabs for everyone from serial luxury shoppers to someone looking for their first investment accessory. Sharpen your bidding skills and ready your credit cards, because this chance to score prime vintage fashion finds isn't going to last long.
This June, e-commerce site eBay and renowned luxury vintage retailer What Goes Around Comes Around are kicking off their new partnership with "Peace, Luxe, Rock, and Roll," the first in a series of exclusive capsule launches hosted on eBay's site. The limited-edition collection, which includes more than 1,300 unique vintage finds scouted out by the savvy resale duo, will be live beginning June 12 through midnight PT on June 18. Several similar pop-up style capsules featuring What Goes Around Comes Around's genius vintage finds will follow in the subsequent months, but no two pieces will be exactly alike — so if you see something you love, you'd better throw your hat in the ring to score it.
In this first drop, dubbed"Peace, Luxe, Rock, and Roll" due to the rock-and-roll-chic finds found within, you'll see items from fan favorite designers who nail glitz and glamour like no other — among them, Gucci, YSL, Fendi, and more. Be on the lookout for key items like a Kamali hand-beaded white fringe jacket, and inimitable pieces like Pucci dresses from the 1960s.
But you'll also spot classic luxury goods from iconic brands like Hermès and Chanel that have that uncanny ability to be timeless and modern at once — and elevate literally any outfit. Both of the famed French houses will have handbags featured in the capsule, like a statement-making yellow velvet style from Chanel and the iconic Kelly silhouette from Hermès, among standouts from other labels (like Dior's forever-stylish saddlebags).
With a mix of effortlessly cool and incredibly elegant brands like this, the name sure makes a lot of sense, right? Plus, the music-inspired theme means each piece is perfectly suited for all your festival season wardrobe needs. And because they'll be coming from What Goes Around Comes Around's sophisticated curation, you know they'll be in impeccable condition and fit to carry for years to come, not just a single season.
And if you don't know where to start when scrolling through the stylish selection, look to the campaign's faces for inspiration. Models and music enthusiasts Theodora and Alexandra Richards, daughters of supermodel Patti Hanson and Keith Richards, embody the edgy-but-elevated aesthetic of the brand duo's first drop. Look out for their favorite pieces, including a YSL Black Suede Fringe Trim Skirt and a Jenny Waterbags Paisley Suit, which are practically begging to be worn to a summer concert.
Be sure to set reminders to check in on eBay and What Goes Around Comes Around's inaugural drop before it ends on June 18 — because nothing's worse than missing out on a one-of-a-kind wonder you won't be able to find anywhere else.